SWOT Analysis of Burger King focuses on strengths, weaknesses, opportunities and threats. Strength and Weakness are internal factors and Opportunities and threats are external factors.
SWOT Analysis of Burger King helps to evaluate its business performance in respect to its competitors.
Burger King (BK) is an American global fast food restaurant chain restaurant. There's no chance McDonalds doesn't pop up in your mind when you think of Burger King. Burger King, considered to have a similar marketing strategy, is growing its market presence slowly but steadily, and is now also establishing itself in developing countries. In this article we will discuss SWOT Analysis of Burger King.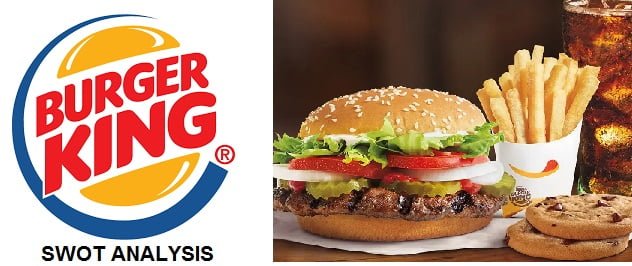 Strength in the SWOT Analysis of Burger King
Global Operations: It's the second largest hamburger fast food restaurant. In the year 1953 Burger King was established in Miami, Florida by David Edgerton and Jim McLamore. The organisation has about 40 subsidiaries that handle franchise activities, acquisitions and financial commitments worldwide. Restaurant Brands International is the parent company of Burger King.
Strong network of franchises: Burger King is considered to exist in 100 countries. It has 17796 franchises & outlets owned by the group. Out of 17796 outlets, only 10% are franchise-operated outlets owned by the company.
Wide Range of Products: It also offers grilled burgers, breakfast meals, snacks, sandwiches, drinks, chicken products, in addition to serving burgers in various sizes. In terms of the number of restaurants & revenue, it is the world's 2nd largest fast food restaurant chain.
New Broiler for its outlets: The introduction of new versatile broilers has been completed by the company. Items like extra-thick shrimp kebabs, burgers, fire-grilled items are just a couple of the recent items introduced to their menus by Burger King. In order to have a competitive advantage over other players, the new broilers feature versatile cooking techniques that allow Burger King to prepare virtually any form of food.
Good branding-Burger King, like McDonalds, is similarly strong in its branding efforts. As it is still in the stage of growth, there are several areas where it does not have a presence. But in areas where it is present, it is understood that its marketing efforts smartly attract the local audience.
90% of Burger King outlets are owned by franchisees, a tactic that helped them concentrate on innovating their menus rather than thinking about finances. Less capital intensive.
Weakness in the SWOT Analysis of Burger King
Decreasing revenues in developed markets: There is a drop in revenue impacting the industry as a whole due to an increase in the health-conscious population. Due to COVID revenues of restaurants and food chains are decreasing.
Wide franchisees: Large numbers of franchised outlets contribute to difficulties managing operations, while maintaining quality enforcement is also daunting and conflict-related because it can hamper the brand image of Burger King.
Opportunities in the SWOT Analysis of Burger King
Business Expansion: It would be advantageous to grow into emerging markets as developed markets evolve and people become more health-conscious. Targeting emerging economies will be the industry's future strategy.
Market Penetration: By further penetrating the existing market, strengthening its outlet network would allow Burger King to increase its sales and become the number one player in the fast food chain market.
Health conscious eatables: While burger king had made his restaurants free of Trans-fats, but still due to growing awareness, healthier menus with fresh low-fat flavour additives would contribute to potential sales growth and revamp the industry.
Threats in the SWOT Analysis of Burger King
Competition: Intense competition from Dominos, McDonalds, Subway KFC, local fast food joints and foreign players.
Changing customer eating habits: Consumers are becoming more conscious of what to do & what not to do with government & NGO health awareness initiatives that impact the fast food industry as a whole sector.
Raw material prices: increases in raw material prices can affect the industry as a whole; there is no exception to the effect on Burger King.
Government Norms can also directly affect the business of Burger King.
If you like This Article Please Like our Facebook Page PROJECTS4MBA
Cite This Work
Referencing Style to cite this article:
[citationic]