SWOT Analysis of Burberry focuses on Strength, Weaknesses, Opportunities, and Threats. SWOT Analysis provides a well-tested management methodology that enables Burberry in comparison with competitors and industry to assess its business performance.

Burberry is a luxury fashion brand. Burberry has its headquarters at London (U.K.) It is located at 421 places as of 2020.It was founded in the year 1856 in England. Burberry is famous for its clothing, accessories, perfumes and cosmetics. Company has a annual revenue of 433 billion pounds. Burberry has about 9892 employees.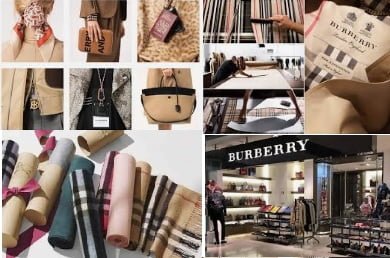 Strengths in the SWOT Analysis of Burberry – Burberry SWOT Analysis
Brand Value: Burberry is about 156+ years in experience. Burberry brand is associated with British fashion. It's a maker of fragrances clothing, and accessories. Burberry is committed to supply customers with a high quality and long-lasting clothing.
Distinctively checked pattern: immediately recognizable: Burberry's iconic check pattern is one of the most commonly replicated trademarks in the world. The company is also well known for producing a trench coat specifically for the First World War, which became popular.
Focused marketing has developed high market retention & brand recall: you won't ever see TV advertisements or signage advertising of Burberry products. They are mostly promoted / released on fashion blogs as well as in magazines such as Cosmo, Glamour, Elle, Vogue and many more. It relies heavily on celebrity endorsements that allowed the company to recover its popularity after its collapse in the 1970s-2000s. Faces such as Kate Moss, Agyness Deyn, Robert Pattinson & Rosie Huntington-Whitey kept the brand new and attractive.
International presence: there are more than 500 stores in 50 countries. Burberry offers its products to the ultimate customer through both retail and wholesale outlets. Burberry also has licence deals in Japan and around the world.
Renovation of Brand: Burberry's management has made wise choices to invest in, and accelerate, the renovation of its brand. The company began selling fashionable apparel merchandise along with its standard items. Over the years, Burberry's style has become a prestigious symbol of cult status, class, custom, and luxury.
Royal Brand : Burberry has received a Royal Warrant; Queen Elizabeth II has received a Royal Warrant; and Prince Charles has received a Royal Warrant once, which ensures that the corporation can make public that it is the provider of merchandise to the royal family. These historic milestones have brought a great deal of significance to the company.
Commitment to the community: Burberry obviously believes that interactive and responsive social media are essential for them to become significant to their target audience. The effectiveness of their social media marketing campaign is apparent in the number of fans and followers they have gained, with 14,241,285 likes on Facebook and 1,403, 981 followers on Twitter and 47, 061 subscribers and 17,769,628 video viewers on their YouTube channel.
Weaknesses in the SWOT Analysis of Burberry – Burberry SWOT Analysis
Premium price range: while pricing indicates consistency & desirability, but a high price range has only brought it within the pocket of a few consumers. Young people who want to lead their lifestyle can not afford high-priced goods.
Limited products: Burberry product list consists of Apparels, Makeup items & cosmetics, which in themselves are limited in the luxury & design category, although several other firms have expanded their product line to Home Decor & Furniture, Personal Grooming and divisions.
Asian Markets: a large percentage of the group's profits come from Asian customers worldwide. Consequently, any shift in customer preferences or the fiscal, regulatory or social and political climate in Asia may adversely affect the disposable income, trust and travel of Asian consumers, which could have an effect on community income and earnings. A large proportion of Group profits depend on its licenced company in Japan and other core products.
Opportunities in the SWOT Analysis of Burberry – Burberry SWOT Analysis
Changing lifestyle: With the saturation of developed economies, changing tastes and desires, awareness and changing habits of developing nations have resulted in a high market for premium products and services.
Developing emerging nations: joining new potential markets such as Thailand, Turkey, Mongolia, Egypt and many other potential countries would be the right step to succeed in the long term because developed nations still have strong competition. Market Penetration in developing economies like Europe, India, Middle East and Africa & Asia Pacific can increase their income.
Expansion of the product line: the expansion of the product portfolio would open up a new collection of prospects and at the same time being able to distinguish itself from the competition.
Increased demand for premium goods: if we just consider the Indian market, there is a 33% rise in demand for premium products, which informs us the potential prospects and the extension of the size of the market of these high-quality products in developed countries.
Threats in the SWOT Analysis of Burberry – Burberry SWOT Analysis
Extensive Competition: Extensive competition from players such as Versace, Gucci & Prada with a multinational footprint poses a big challenge to the life of Burberry.
Changing Consumer Lifestyle: rapidly changing lifestyle & fashion is a big challenge to the industry as Fashion products have the shortest life span.
Threats from imitation / fake goods: One of the main problems facing a luxury brand is imitation / fake products that can have an effect on their brand value over time. Trademarks and other intellectual property (IP) rights are central to the prestige, performance and strategic advantage of the Group. The illegal use of these goods, as well as the sale of counterfeit products, harms the reputation and earnings of the Burberry Company.
Chinese Brands: Most of the business of Burberry is affected by Chinese Imitation brands.
Government Policies: Government Policies directly or indirectly affect the business of Burberry.
If you like this article please like our Facebook Page PROJECTS4MBA
Cite This Work
Referencing Style to cite this article:
[citationic]