SWOT Analysis of Big Basket focuses on Strengths, weaknesses, opportunities, and threats. Strength and Weakness are the internal factors and Opportunities and Threats are the external factors which influence the SWOT Analysis of Big Basket.
Big Basket is the country's leading online food and grocery store. Big Basket was established in the year 2011 in Bangalore. Big Basket was founded by Hari Menon, Vipul Parekh, V.S. Sudhakar, Abinayss Choudhari, and V.S. Ramesh. Later on, Big Basket has expanded its business in Major cities in India. Big Basket sells items from a broad variety of categories, including vegetables and berries, juices, dairy goods, rice and dal, herbs, beef, prepared goods and personal care products.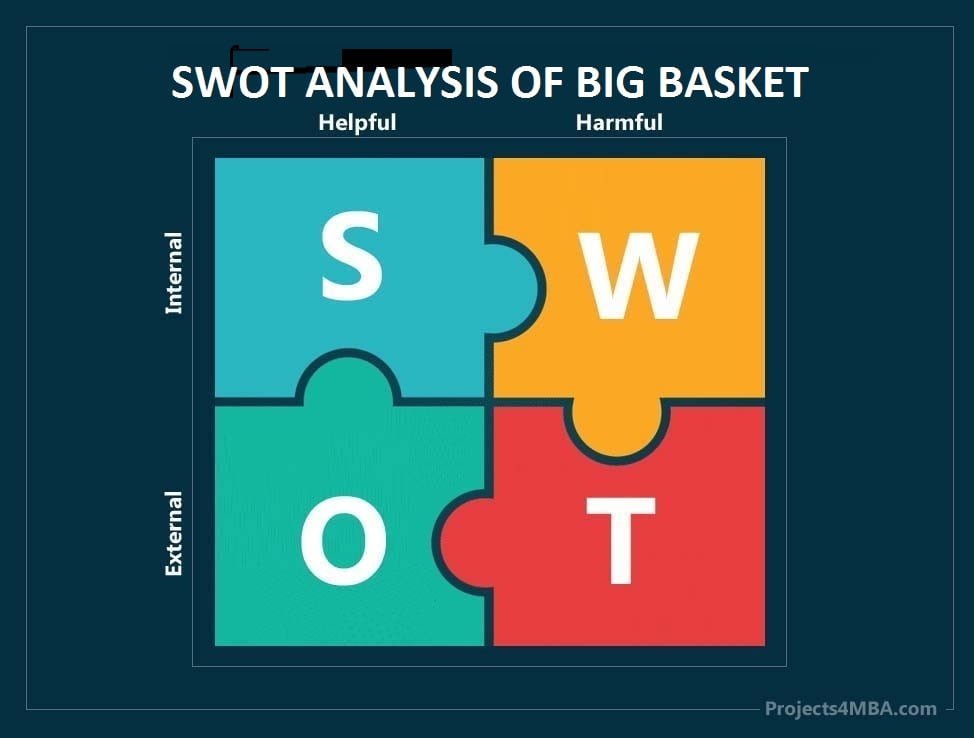 Strengths in the SWOT Analysis of Big Basket – Big Basket SWOT Analysis
Exotic Fruits and Vegetables: Big Basket also offer exotic fruits, vegetables, and foreign foods that are not readily accessible in local supermarket outlets. This gives them the cutting edge of appealing to consumers who want to purchase products like that.
WideProductRange: Big Basket has a wide range of items covering nearly 18,000 products.
Attractive Discounts offers: Big Basket provides attractive discounts on multiple items. They still provide a merchandise bundling strategy intended to boost revenue and give consumers full discounts. This renders them a lucrative buying choice for consumers.
Target Group: Big Basket has chosen their target customers quite carefully and has built a base in the metropolitan and some Tier-I cities. They are located in Bangalore, Mumbai, Hyderabad, Chennai, Pune, Delhi, Vadodara, Patna, Mysore, Bhopal, Indore, etc.
Convenience: Big Basket provides a way out of the inconvenience of waiting in the queues of malls or heading all the way to department shops. They send the goods right at the door and offer various payment choices. The on-time delivery promise allows them a profitable choice. Customers can buy at any time of the day, particularly in major cities where life is very fast and it is challenging to meet customers.
Low Fixed Cost Business Model: Most of the goods sold by Big Basket are perishable and so rely on the retail stores they are coordinating with for the merchandise. This ensures that they have little inventory expense and making their company plan more efficient.
Promotions: Big Basket is endorsed by Shahrukh Khan a leading Bollywood Star. Big Basket is promoting its products online through Google Ads, Facebook Ads and Instagram Ads.
Weakness in the SWOT Analysis of Big Basket – Big Basket SWOT Analysis
Next Day Delivery System: Big Basket delivers the orders the next day. Many small and big retails are providing delivery in hours or in few minutes. Customers have to wait for delivery in Big Basket. Customers prefer quick delivery Big Basket can increase its sales by providing faster delivery.
Variable Cost: The cost of operating multiple distribution guys, delivery vehicles, handling of perishable goods, and wastage during transport lets the company operate at a high variable cost. They've got to bleed more capital and perhaps take longer to crack.
Minimum Order Value: Big Basket does not provide home delivery below a defined order value. This can decrease the sales of BigBasket. Other Local retailers and Reliance Jio has no minimum order value concept.
Home Delivery: Consumers need to be at home as Big Basket is about to deliver. This implies that consumers must schedule according to the arrival time. If the order is postponed by any means, the consumer becomes frustrated and disappointed with the operation. Customers have to pay 30 Rupees per order for home delivery.
Order Cancellations: Big Basket relies on the stores that they have linked up with in order to supply them with the products. And if the store does not have the ordered item they have to cancel the order. The frequency of out-of-stock cancellations is more in Big Basket which makes customers unhappy.
Data Theft: Big Basket has faced allegations of data threats in the year 2020. The data of 2 Crore customers was on sale on the Dark web.
Opportunities in the SWOT Analysis of Big Basket – Big Basket SWOT Analysis
Market: Indian retail market size is more than approx. $550 million, and food alone accounts for 60 percent of this share. It is also a large business with multiple competitors to satisfy and consumers to care for.
Growth of E-Commerce Grocery: India is the sixth-largest food market in the world. The e-commerce grocery industry is rising at a pace of 19 percent year on year.
Expansion: Several cities are still not served by these startups, and Big Basket should target them and take advantage of the first movers. They can spread to two-tier cities and grow their market.
Cross-selling and Value Packaging: Cross-selling is a huge benefit for the Big Basket since it will offer many items by commodity bundling.
Home Brands: In-house Packaging and Home Brands can help Big Basket to increase its earnings.
Increasing Trends of Online Promotions: Big Basket can formulate strategies to promote its services through online channels like Google Ads, Youtube promotions, Facebook, and Instagram Marketing.
Increasing trends of Offers: Big Basket can increase its sales by offering discounts and free gifts along with the purchase.
Threats in the SWOT Analysis of Big Basket – Big Basket SWOT Analysis
Competition: Big Basket has a limited footprint in terms of the cities served, but there is big competition from other startups including Grofers, Nature's Basket, OnDoor, JioMart, Big Bazaar, etc.
Large Players: Bigger players are now joining this lucrative business in terms of financial support and involvement. Players like Amazon, Flipkart, and Google have joined the business. This will prove to be a threat to smaller players like the Big Basket to deal with them.
New Entrants and Local Players: Several other localized retailers have picked up on this pattern and begun offering home delivery services to neighboring consumers, killing target segments of customers throughout regions and towns.
Customer Retention: Customer retention is really challenging. Customers will prefer to switch towards the service company providing the most discounts and faster delivery.
Government Regulations: Government Regulations for Online Grocery delivery can directly affect the business of Big Basket.
If you like This Article Please Like our Facebook Page PROJECTS4MBA
Cite This Work
Referencing Style to cite this article:
[citationic]