SWOT Analysis of Big Basket focuses on Strengths, weaknesses, opportunities, and threats. Strength and Weakness are internal factors and Opportunities and Threats are the external factors that influence the SWOT Analysis of Big Basket.
Big Basket is the country's largest online food and grocery retailer. They provide products from a diverse range of categories, including vegetables and fruits, dairy products, beverages, rice, dal, spices, packaged meals, meat, and personal care products. They also provide products from a diverse range of categories, including vegetables and fruits.
With an investment of approximately Rs. 9,500 crore (US$1.3 billion), the Tata Group acquired a 64.3 percent stake in BigBasket in February 2021.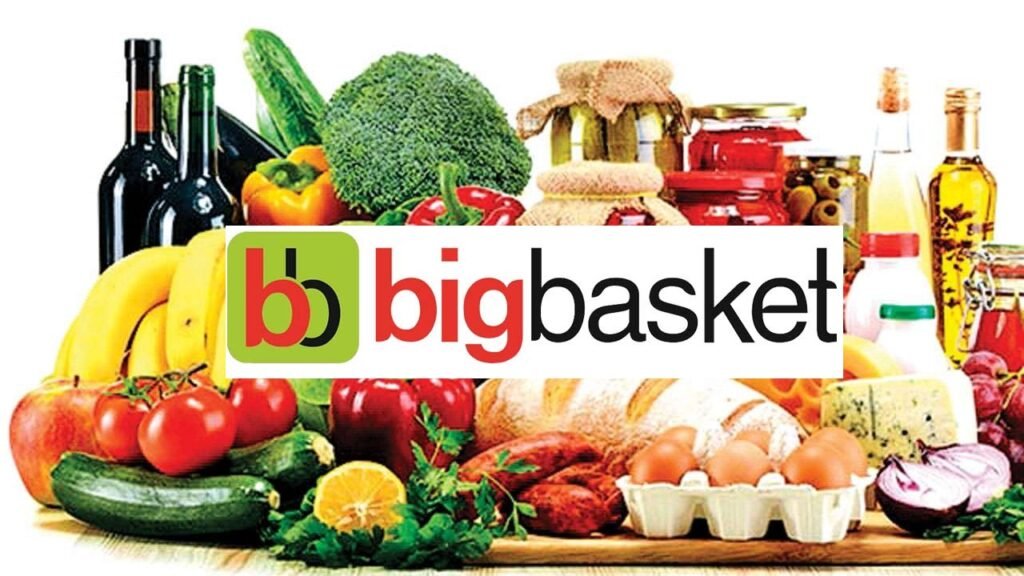 Strengths in the SWOT Analysis of Big Basket – Big Basket SWOT Analysis
Product Selection: Big Basket has a large selection of products that includes over 18000 different items.
Strong Financial Support: Being acquired by Tata Group. Big Basket has a strong financial support from Tata Group.
ExoticRange: Exotic fruits, vegetables and imported foodstuffs are also accessible at the local retail locations. For clients that enjoy buying this merchandise, this gives them an advantage.
Discounts: Big Basket frequently runs promotions on a variety of products. By combining product bundles, they're able to increase sales while keeping the discounts they give to clients as generous as possible. As a result, they are an excellent value proposition for clients to consider.
Convenience: Big Basket allows you to avoid the inconvenience of standing in long lines at shopping malls or driving all the way to retail stores by delivering to you. They deliver the merchandise directly to the customer's door and accept a variety of payment methods. Customer convenience is enhanced by the guarantee of on-time delivery. Customers, particularly in big cities where life moves at a breakneck pace and it is difficult to reach them, can shop at any time of day.
Small Target Group: They have targeted a very small segment of the population with great care, and they have built a foothold in the most populous and tier-I cities. Including but not limited to the locations above, their business operates in the following cities: Bangalore, Hyderabad, Mumbai, Pune, Chennai, Delhi, Mysore, Vadodara, Patna, Indore, Vijaywada, etc. Operational in around 25 cities.
Low Fixed Cost Model: Big Basket follows a low fixed cost business model because the majority of the things are perishable, hence they depend on other retail locations for the products. It also means that they have no inventory cost, which gives them a bigger profit margin.
Weaknesses in the SWOT Analysis of Big Basket – Big Basket SWOT Analysis
Delivery Time: The items are delivered the next day by Big Basket. Several retailers have implemented fast home delivery within a few minutes to hours. This choice is preferred by clients instead of having to wait for 24 hours.
Fluctuating Cost: Variable cost since it fluctuates depending on the number of delivery personnel, delivery trucks, and perishable food storage. To break even, they will have to bleed more money and take longer.
Minimum Order Value for Delivery: Big Basket is obligated to offer home delivery only if an order amount or price is met. If an order quantity or price is not met, Big Basket will not deliver. In this scenario, clients would be obliged to purchase at least two additional products in order to utilize the service. Losing a customer does this.
Customers have to Stay at Home at the time of delivery: Big Basket customers must be at home before the service arrives. In other words, customers must plan their schedules around the delivery time. The longer the order is delayed, the more upset and disappointed customers become. Additionally, consumers must pay a little extra on top of the retail price for the home delivery.
Cancellations: They need stores they have tied up with to offer them things for order cancellations. They will not be able to deliver anything if they do not have the necessary products on hand. This tends to cancel orders occasionally. Out of supply issues make customers upset, which contributes to repeat use issues.
Opportunities in the SWOT Analysis of Big Basket – Big Basket SWOT Analysis
Good Indian Market: Indian retail market is about $550 million, which is equal to almost 60% of all retail in the country. As a result, it is a massive market with a large number of companies to accommodate and customers to satisfy.
Growth of Grocery Market: The Indian grocery market is the sixth-largest in the world. According to a report from the American Express OPEN Forum, the e-commerce grocery market is rising with a year-on-year growth rate of 19%.
Expansion in New Markets: In order to expand, Big Basket will need to identify cities that are currently unserviced by these businesses and target them in order to obtain the first-mover advantage. They are capable of going to Tier 2 cities and boosting their market share.
Product Kitting and Bundling: Product bundling (bundling) is a significant advantage for big basket as it enables selling many products.
Threats in the SWOT Analysis of Big Basket – Big Basket SWOT Analysis
Intense Competition: Since it only has a tiny footprint in terms of cities covered, it faces intense competition from other businesses like JioMart, Grofers, Nature's Basket, OnDoor, and Mera Grocer, among others.
Big Competitors with Strong Finance Support: More than financial support and market presence, we are also seeing increased competition from larger organisations. Amazon, Flipkart, and Google are among the companies that have entered this business. Smaller players, such as Big Basket, may find it impossible to compete with them as a result.
Local Competition: Other localised businesses have taken notice of this trend and have begun offering home delivery services to people in their immediate vicinity, effectively eliminating entire groups of target customers across multiple regions and cities.
Customer Retention: Retaining customers is extremely challenging. If they have a choice, they would most likely choose the service provider that gives the largest discounts.
Demand: Changing demand patterns from online purchases would threaten current supply chain models.
Shortage of Skilled Workforce: Shortage of skilled workforce in certain global market represents a threat to steady growth of profits for Big Basket in those markets.
Taxation Policies: The new taxation policy can significantly impact the way of doing business and can open new opportunity for established players such as Big Basket to increase its profitability.
Increasing Petrol Prices: Delivery charges and product price directly depends on the fuel prices. Increasing fuel prices is a major threat to the company.
If you like this article you can recommend your friends about PROJECTS4MBA.COM
If you like This Article Please Like our Facebook Page PROJECTS4MBA
Cite This Work
Referencing Style to cite this article:
[citationic]