SWOT Analysis of Berger Paints focuses on Strengths, weaknesses, opportunities, and threats of the company. Strength and Weakness are the internal factors and Opportunities and Threats are the external factors which influence the SWOT of Berger Paints.
Berger paints is a large business engaged in the manufacturing and distribution of Paints in India. The company has headquarters in Kolkata and originates from India. It is considered to be an outstanding producer and dealer, but it is not as powerful as Berger Paints in ads. Berger paints have a big presence in 5 countries, including India, Nepal, Russia, Poland, and Bangladesh. In addition, it is still attempting to make inroads in Africa.
Let's discuss SWOT Analysis of Berger Paints.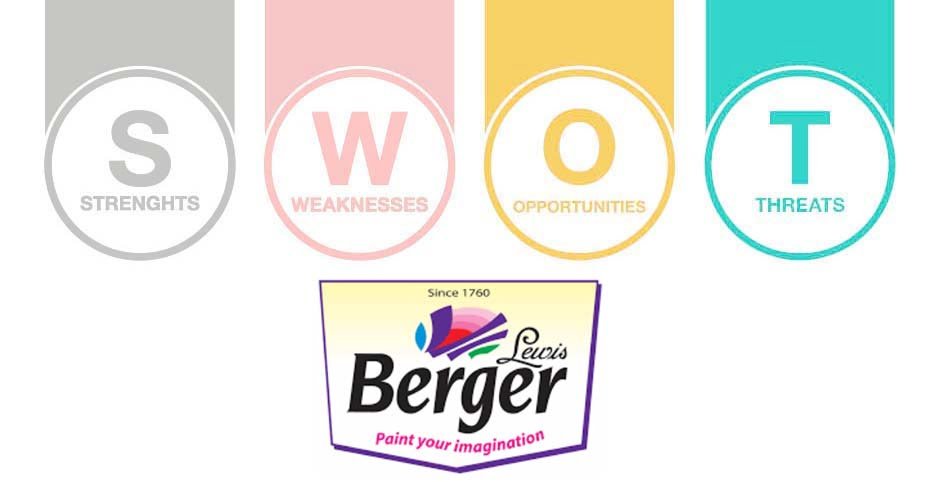 Strengths in the SWOT Analysis of Berger Paints – Berger Paints SWOT Analysis
Company basket: Berger Paints provides a wide range of products like home painting, primers, coatings, etc. They also offer the option of decorative paints which is the latest on the market and in demand. It bought the unit of decorative paints from the US-based Sherwin Williams Paints.
Brand Recognition: Being the second-largest manufacturer of Paint gives them a healthy equity brand. The company is known by almost all, and is acquainted with its products and deals. Their exacting promotions made them a household name.
Foreign Market: It has international operations in a few countries including Nepal, Bangladesh, Russia, Poland, Cyprus, and cooperation with Sweden's Becker and Japan's Nippon paints.
Competent Leadership: Kuldip Singh Dhingra is the chairman and Gurbachan Singh Dhingra is the vice-chairman who holds a combined 75 percent stake in the company and has brought it to new heights making it the second-largest paint maker trailing behind Berger paints. The company's future leadership is set, too. The reigns will be passed on to Gurbachan and Kuldip's children Kanwardeep and Simran.
Loyalty: When it comes to re-painting their homes consumers are faithful to Berger Paints.
Secure supply chain: Berger Paints has a countrywide secure supply chain network. This includes seven production units, Eighty-Five depots, and many regional outlets. Berger Paints has an employee strength of 2500 and a huge distribution network of 15000 distributors across the country.
Growth: Their retail prices (RSP) have shown steady growth.
Diverse Client Base: Berger represents a diverse customer base ranging from businesses, service sectors to cars, and nuclear power plants.
Market entry barriers: They have grown so big they have created a barrier to market entry for new competition. We dominate much of the business alongside Berger Paints.
Diversification: They expanded into the Construction Chemicals segment and thereby expanded its revenue and profit scope.
CSR: We have initiated a Green Horizon program aimed at an eco-friendly painting by reducing waste and protecting natural resources.
Weaknesses in the SWOT Analysis of Berger Paints – Berger Paints SWOT Analysis
High reliance on one segment: Berger Paints for its highest sales relies heavily on one segment and this is the decorative segment. It is not a long-term plan, and can not support long-term high growth rates.
Bad picture of the brand: Berger faced a lot of negative ads because of lead found in her paints. This kind of advertisement taints the company's brand image.
Small purchasing power: They do not have the pricing power in their pockets because of a duopoly in the industry. They have to keep their costs in line with the paint costs going on the market.
Smaller distribution – Berger paints are considered to have a smaller distribution network compared to Nerolac or Berger paints, which for the business is a big issue. It needs to extend its distribution network far and wide, and increase its production capacity to meet demand if needed.
No premium alternative – Berger paints have conveniently targeted a specific segment that gives high margin through its Royale initiative in Berger paints. To get in touch with their customers and have better sales and brand equity, Berger paints need such initiative.
Opportunities in the SWOT Analysis of Berger Paints – Berger Paints SWOT Analysis
Strategic – Berger portrays the need to be up to his game when it comes to marketing communications. Where Nerolac and Berger paints advertise to both left and right, Berger paints are left far behind and the advertising frequency is lower. With marketing, it will reinforce its mark values and create consumer demand.
Untapped market potential: Indian household use of paints is very low. It has a high growth range in this segment. There is also an increase in demand for paint due to urbanization.
New Launches: They can innovate and invest in their research and development to produce superior technology for the paint industry. They can also introduce more environmentally friendly paints, and make them safe.
Developing markets – Berger paints actually only operate in 4 countries but it can also extend to other emerging markets because of its manufacturing base.
Diversification: Berger Paints has wide potential for company and commodity diversification.
Government policies: The government focuses on urbanization, industrialization, house growth, and the creation of more cities of Tier 2 and Tier 3. In the near future, that means there will be a massive market for paints.
Threats in the SWOT Analysis of Berger Paints – Berger Paints SWOT Analysis
Raw material Prices: The prices of the raw materials of paint highly fluctuate.
Changing government laws: Changing government laws could lead to new businesses in the sector. That means heightened competition.
Rivalry eroding the margins – Stiff competition among the top three, paints from Asia, Nerolac, and Berger. Of these, Berger paints tend to be lagging behind, leading to penetrative pricing and lower margins. It is a challenge to paintings by Berger.
The Slowdown Threat: Any economic slowdown will have a direct negative impact on the construction industry and consequently also affect the paint industry.
Unorganized sector: The unorganized sector still accounts for about 35 percent of the market share and this may prove to be dissuasive to industry growth.
Raw materials scarcity: the raw materials available in the paint industry influence the cost of paint and scarcity can cause a price change, which can be a challenge to the paint industry.
If you like This Article Please Like our Facebook Page PROJECTS4MBA
Cite This Work
Referencing Style to cite this article:
[citationic]