SWOT Analysis of Bata focuses on strengths, weaknesses, opportunities, and threats. Bata is one of the largest footwear manufacturers in the world. The strengths and weaknesses of Bata Swot are internal factors, while opportunities and risks are external factors.
SWOT Analysis is a validated management tool that enables a company like Bata to measure its business performance in comparison to its competitors and the industry.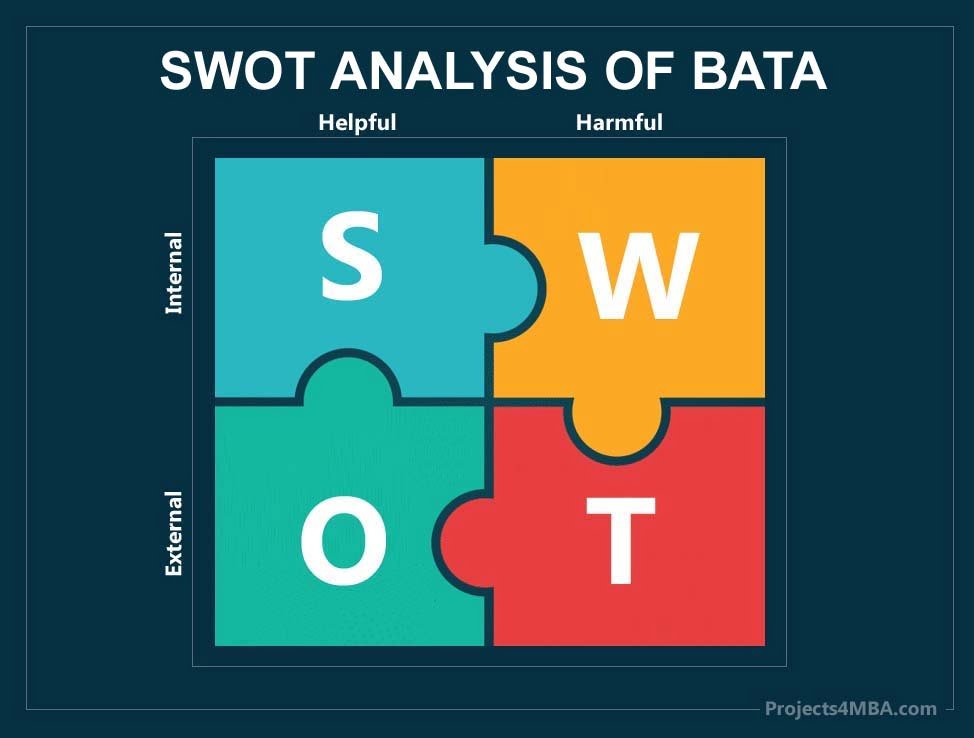 Bata is a manufacturer and retailer of footwear and luxury accessories. Bata has its headquarter in Lausanne, Switzerland. Tomas Bata is the founder of Bata. Bata was established in the year 1894. The Bata family still owns Bata and has grown to over 70 countries. With a presence in over 500 cities across 5300 retail outlets, India has become a favored market for Bata.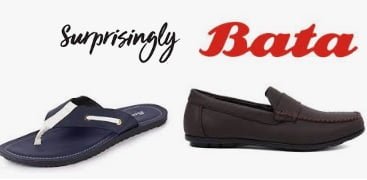 Strengths in the SWOT Analysis of Bata – Bata SWOT Analysis
Marketing Strategy: A marketing strategy is good if a company is generating a good profit and has a good brand image.
Online Marketing Initiatives: Bata is taking advantage of online marketing and marketing its products through Google Ads, Instagram, Facebook, and other social media and online platforms. Thus we can say that the advertising & marketing plan of the Bata is good.
Use of Market Analytics: Analysis marketing strategy depends on the market situation. Bata is always using market analytics to formulate marketing strategies. The marketing and strategic management practices of Bata are good.
Branding Strategy: Bata's branding strategy is good and using an aggressive promotional strategy to promote its products and services on Television and Radio Ads.
Excellent positioning: As a trendy and inexpensive footwear brand, Bata has positioned itself very well. Bata is the most preferred brand in India.
Cost Advantage: It is very evident that Bata has a cost advantage and can produce a wide selection of shoes at a very inexpensive price.
Fashion and Style: Bata shoes and accessories are now very stylish and durable. Pricing is also good. People in India have complete trust in Bata Footwears.
Global Footprints: With manufacturing facilities in 23 countries, Bata is present in more than 70 countries. Bata has more than 30000 employees. Bata serves about 1 million people per day. Bata is present in India and is the most trusted brand among Indians.
Deep Market Penetration: The market has been penetrated very well by Bata. Bata has a presence in big towns and regional villages. This helps to retain its customer base and also to catch the new business demand generated.
Distribution Network: With around 5300 retail outlets worldwide, Bata has a very strong distribution network around the world, of which more than 1200 are based in India. Network partners in distribution channels are generating high profits. The network of Bata is very strong and connected.
Weakness in the SWOT Analysis of Bata – Bata SWOT Analysis
Declining Market Share: Bata has been exposed to strong competition; this does not allow Bata to have a high market share. The market share of Bata has been reduced to 6 percent due to other competitive brands and local brands.
Declining Sales: Due to the entry of global and national players in the Footwear market sales of Bata are declining.
Controversies: Bata has been fined by the Consumer forum of India for selling the paper bags for 3 rupees. This has ruined the image of Bata. The company must try to stay away from this type of controversy.
Opportunity in the SWOT Analysis of Bata – Bata SWOT Analysis
Fashion Symbol: Footwear is now considered a symbol of fashion and sales are now bound to rise. This offers opportunities for Bata to raise its sales.
Increasing demand in Rural Markets: In developing nations, Bata has a large presence. Rural economies are rising at a fast pace in developing nations. In the rural sector, Bata needs to take advantage of the demand produced. This would continue to improve the bottom-line.
Premium Footwear Demand: There is a growing demand in the premium footwear industry, especially in developing countries where living standards are increasing.
Threats in the SWOT Analysis of Bata – Bata SWOT Analysis
Duplicate Products: The footwear industry is also vulnerable to the imitation of products. Duplicate products not only reduce sales but also has a negative effect on brand identity.
Tough Competition: Bata faces tough competition from other existing and upcoming footwear brands. Increasing Competition causes a change in pricing, discount offers, and sales which is a major threat to Bata.
Government Rules and Regulation: Government Rules and Regulations for Foreign companies and companies working in the Footwear Industry can be a major threat to Bata.
If you like This Article on SWOT Analysis of Bata Please Like our Facebook Page PROJECTS4MBA
Cite This Work
Referencing Style to cite this article:
[citationic]