SWOT Analysis of ASUS focuses on Strengths, weaknesses, opportunities, and threats. Strength and Weakness are the internal factors and Opportunities and Threats are the external factors that influence the SWOT Analysis of ASUS.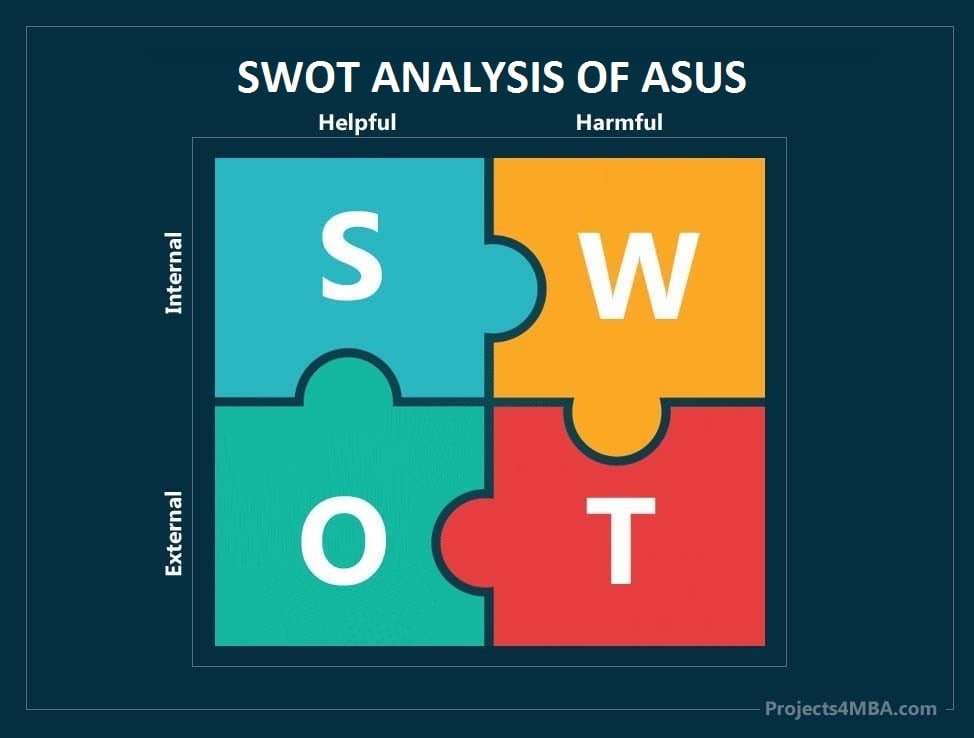 AsusTek Computer is a Taiwan-based company widely known as ASUS. ASUS mainly manufactures laptops, desktops, projectors, WiFi Devices, computer motherboards, graphic cards, storage devices, wearable, workstations, servers, tablet PCs, mobile phones, consumer electronics, and networking equipment. Asus has total revenue of 351.33 billion New Taiwanese Dollars in the year 2019. ASUS operates in 32 Nations and has 5831 Employees.
Strengths in the SWOT Analysis of ASUS – ASUS SWOT Analysis
Brand Name: ASUS is one of Taiwan's leading brands. ASUS won many local and international awards for its products and performance.  It was also known for its business success. ASUS was ranked as the world's most respected business. Good brand awareness brings prestige to a company that lets the company deliver sustainable business success. Over the years due to the product performance it has successfully established itself as a recognized and trusted brand.
Huge and Increasing Market Share: ASUS is one of the top five players in the PC market with a market share of about 7.6 percent, and also has a major market share in the motherboard sector. Its market share is increasing due to its product quality and performance.
State of Art Manufacturing: ASUS has vertically organized the production of components into numerous subsidiaries. It also involves integrated supply chain processes. This makes it easier for ASUS to enter the market quicker and therefore to have superior production capability. ASUS has a state of art manufacturing capabilities.
Diversified Product Portfolio:  ASUS's diversified product portfolio is a fantastic benefit over its rivals. It has a large variety of products renowned for everyone's needs. ASUS mainly manufactures laptops, desktops, projectors, WiFi Devices, computer motherboards, graphic cards, storage devices, wearable, workstations, servers, tablet PCs, mobile phones, consumer electronics, and networking equipment.
Strategic Advantage of Manufacturing Abilities: Thanks to its large manufacturing ability and the usage of economies of scale, ASUS has a strategic advantage over its rivals. Moreover, this benefit is durable because Asus can only expand the scale and production capacities with an increase in electronic use worldwide.
Eco-Friendly Activities: this is an unusual characteristic of electronics and computing businesses, but ASUS is renowned for its eco-friendly activities. The organization is considered to have initiated the GREEN ASUS project in 2000, which contributed to the introduction of a broad variety of eco-friendly initiatives. In addition, the organization has invested in the "recycling for a better future" program, which reclaimed and refurbished outdated devices and eventually donated them to 122 schools as brand new equipment. ASUS follows green eco-friendly policies for design, manufacture, marketing, and procurement.
Research and Development: To remain a cost leader, ASUS is constantly adopting new technologies. This helps ASUS to produce quality goods at a cheaper rate. It is also fair to assume that ASUS is an R&D-focused organization and its key emphasis is on making quality goods for its customers.
Employees: Employees are the key strength of any organization. ASUS is giving special emphasis on employee motivation, career development, and training. This helps the company to get more work from employees.
Weaknesses in the SWOT Analysis of ASUS – ASUS SWOT Analysis
Distribution System: ASUS has a great output capacity, but the distribution system is not good as compared to other leading brands like IBM, Apple, Lenovo, HP, Intel, Dell, etc.
Controversies: In 2016, ASUS lost a big court battle that negatively impacted its brand value. Asus has been identified to have bugs in its applications that have been installed into its hardware. This has ruined the brand image of ASUS.
Communication System: ASUS lacks communications abilities like those of Apple or Lenovo. Although Apple is a legend in marketing, Intel often regularly engages in identifying itself through the distinction of its goods as well as through its marketing communications. However, some separation attempts are observed to be missing from the ASUS.
Marketing Strategies: ASUS is not using aggressive Marketing strategies like promotion on Social Media, Advertisement on Internet, Advertisements.
Opportunities in the SWOT Analysis of ASUS – ASUS SWOT Analysis
Tie-Ups: ASUS can do tie-ups with various laptop and computer manufacturing companies to supply motherboards, graphic cards, and other devices. ASUS can also tie-up with software companies, colleges, and schools to provide PCs and Laptops at a cheaper price.
New Promotional Strategies: Growing Promotional channels like YouTube, Adwords, Instagram, and Facebook Marketing. ASUS can take advantage of these channels to attract more customers and can create more awareness of its products.
Rise in disposable incomes: in developing countries, the reach of the Internet has risen, and so has disposable incomes. Citizens are now more conscious of technical devices and so ASUS will take advantage of its existence in these countries.
Smart Phone Market: According to industry analysts, smartphone shipments are expected to rise at a CAGR of 13 percent. In addition, demand for tablets is also on the rise, projected to increase by around 7 percent of CAGR. The strong optimism for the future would certainly boost the revenues of ASUS.ASUS can launch new phones in competition to Mi and Oppo.
Growing IoT and Cloud Computing: ASUS should take advantage of the growth of the Internet of Things and the expansion of the cloud computing industry. ASUS provides all cloud storage and IoT solutions with a realistic attitude to the good of the consumer. Thus, the rising demand will make a positive contribution to the growth of the business.
Tap New Markets: Developing Markets in Developed and Developing Nations can be targeted by the company.
Competitive Pricing: ASUS must follow competitive pricing and extended warranty support to attract more customers.
Threats in the SWOT Analysis of ASUS – ASUS SWOT Analysis
Intense Competition: ASUS faces intense competition in computer markets from leading players such as IBM, HP, Intel, Apple, etc., although it also faces tough competition in the mobile and tablet sector from both current and new local and foreign entrants.
Decreasing margins: As rivalry grows, the primary competitive tactic employed by both rivals is penetration pricing, which decreases the profit margins among all players concerned. As ASUS does not distinguish itself, the decrease in profit margins is projected to be profound over the years.
New Entrants: New Entrants in the market can ruin the business of ASUS. ASUS must try to promote its products heavily to compete with new entrants.
If you like This Article Please Like our Facebook Page PROJECTS4MBA
Cite This Work
Referencing Style to cite this article:
[citationic]