SWOT Analysis of Asian Paints focuses on Strengths, weaknesses, opportunities, and threats of the company. Strength and Weakness are the internal factors and Opportunities and Threats are the external factors which influence the SWOT of Asian Paints.
Founded in 1942, Asian paints is engaged in the manufacture, selling, and distribution of paints, coatings, waterproofing etc. Asian Paints has a total revenue of 2.7 Billion US Dollars and is India's largest paint company. The organization operates in over 19 countries, with facilities in more than 65 nations. Asian Paints is a Berger Multinational holding firm. It is estimated that the Indian Paints Industry accounts for about 65 percent of the consolidated sector at Rs 406 bn. 264 bn rs.
Asian Paints is India's largest paint manufacturing firm with more than 54 per cent market share.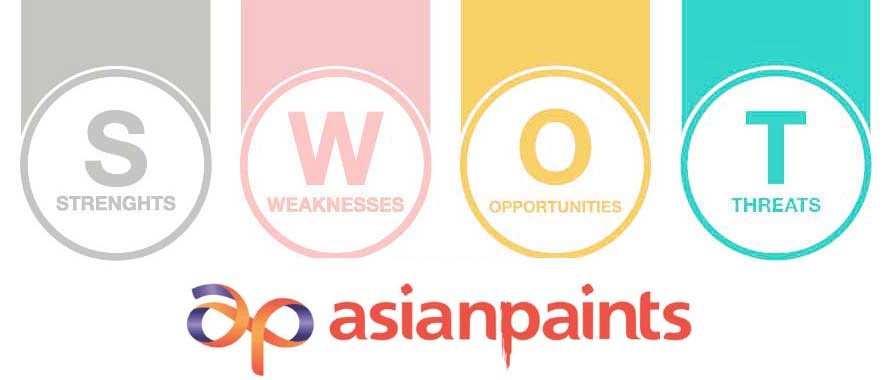 Strengths in the SWOT Analysis of Asian Paints – Asian Paints SWOT Analysis
Goof Growth: Over the past five financial years, Asian Paints has seen a healthy growth of about 8 – 12 percent. This has ensured the company is holding a good position in terms of market share. It is twice the size of any other Indian paint firm.
Clear Global Presence: Asian Paints has a large presence on a globe that operates in 19 countries and has 26 manufacturing units worldwide. Asian Paints operates in more than 65 countries and is Asia's fourth-largest paint firm.
A wide variety of products: Asian Paints' product line enables them to cater to various markets and sectors, they are present in automotive coatings, decorative paints, ancillaries, royal Asian Paints, etc. This enables them to infiltrate various business segments and sections of society which helps them to retain market share.
Brand Value: Asian Paints ranked 20th in Economic Times' Top 20 Best Brands in Interbrand Report. It was also listed among the Most Creative companies in the Top 20 Countries.
Clear supply chain management: Asian Paints is a technology-driven superior organization focused on combining SAP's Supply Chain Management ( SCM) and Enterprise Resource Planning ( ERP) solution.
Marketing strategies-Asian paints have always had successful campaigns for marketing. Over the years, it has continued its partnership with Saif Ali khan and roped for a beautiful campaign in Soha Ali khan, too. Occasionally it roped for advertisements in other celebrities but Saif Ali khan was a constant. Deepika Padukone has recently been appointed as their brand ambassador for Royale Play in Asian paints. Their mascot brand-GATTU is also very famous and is one of India's most popular brand mascots.
Asian painting royal play – The Royale play was an innovative and revolutionary project introduced in the Asian painting industry where painters from the business would paint your home using unique designs and colors. Specially trained were these painters and consumers relied on them because they came from the Asian paint house. Deepika Padukone is the Ambassador brand for the submarine.
Good Brand Loyalty: Asian Paint Customers are brand Loyal because of its texture, finish, and quality.
Dealers and Painters Prefer Asian paints: Painters prefer Asian Paints because of its quality and texture. Painters are also given a commission from the dealers point. Asian Paints is maintaining good dealer relations.
Weaknesses in the SWOT Analysis of Asian Paints – Asian Paints SWOT Analysis
Small market share in Industrial and Auto Paint: Asian paints have a low market share in industrial paint (around 15%) and automotive (around 20%) relative to Kansai Nerolac and AkzoNobel.
Slow International Business: Asian Paints have performed below average in other overseas countries, except for Bangladesh, Nepal and the UAE.
Opportunities in the SWOT Analysis of Asian Paints – Asian Paints SWOT Analysis
Industrial growth: it has the opportunity to acquire market share in both the industrial and automotive sectors, taking into account current market situations.
Growing Indian Economy: Asian Paints has a chance to increase revenue base and expand into smaller cities with growth in the Indian Economy and the creation of infrastructure, to increase revenues.
Emerging Nations: The dream of Asian paints is to become one of the world's top five decorative coatings firms. That can be done by an emphasis on the world's developing economies.
Adapting to the psyche of the consumer-Change is constant. Thus, while Asian paints are leading the market as a result of Royale play, there are other reasons that it can put in to dazzle its customers and thus retain the majority market share. Of course, it was simpler than to say done.
Threats in the SWOT Analysis of Asian Paints – Asian Paints SWOT Analysis
Market Slowdown Threat: Any economic slowdown will have a direct negative impact on the construction industry and consequently also affect the paint industry.
Unorganized sector: The unorganized sector still accounts for about 35 percent of the market share and this may prove to be dissuasive to industry growth.
Raw materials scarcity: the raw materials available in the paint industry influence the cost of paint and scarcity can cause a price change, which can be a challenge to the paint industry.
Government regulations: Government Regulations and laws can also have an adverse effect on the company.
Growing Popularity of Competitors can also be a major threat to the company.
If you like This Article Please Like our Facebook Page PROJECTS4MBA
Cite This Work
Referencing Style to cite this article:
[citationic]