This article presents a detailed SWOT Analysis of Ariel. SWOT Analysis of Ariel focuses on Strength, Weaknesses, Opportunities, and Threats. Strengths and Weaknesses are internal factors and Opportunities and Threats are external factors.
SWOT Analysis provides a well-tested management methodology that enables Ariel to assess its business performance in comparison with its competitors and industry.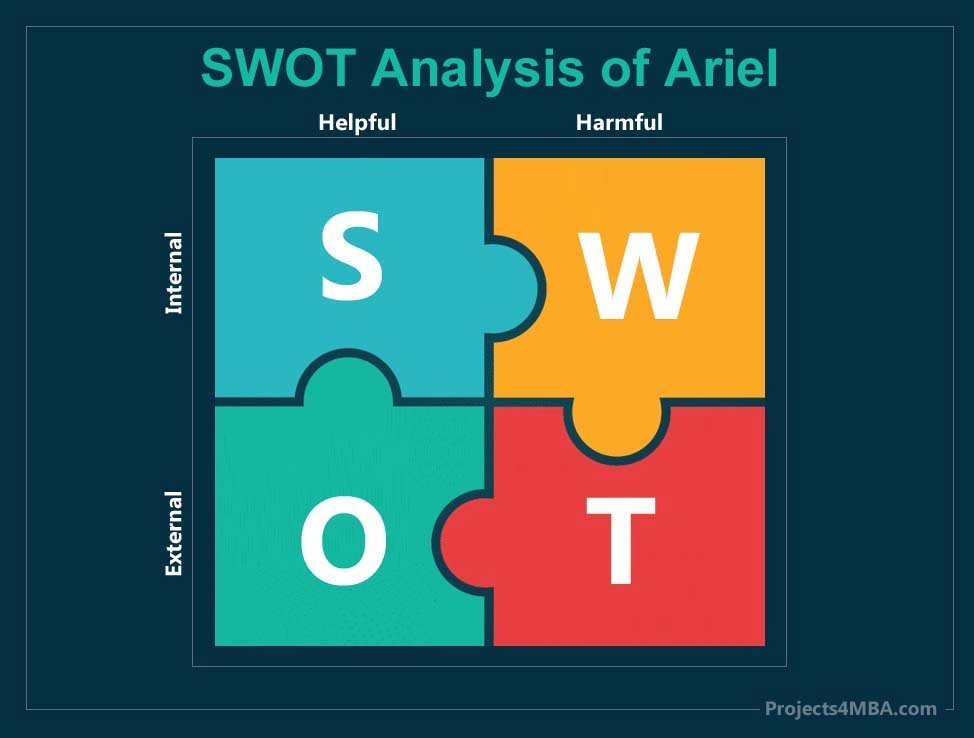 Ariel is one of the world's highest-selling detergent brands and is a product of Procter & Gamble. P&G itself is considered to have a number of varieties of detergent, but Ariel is the best in its basket. Most of the washing machine brands recommend Ariel Machine Wash for its excellent cleaning abilities. Hence, many customers prefer Ariel over other brands. Ariel is also recognized as a brand for easy laundry that focuses on simple clothes washing.
Strengths in the SWOT Analysis of Ariel – Ariel SWOT Analysis
Market share: Ariel is India's second-largest brand in terms of market share. Although Ariel has the largest global market share. Surf Excel ranks higher than Ariel in India.
Quality and Trust: Ariel is the most trusted brand to remove stains from clothes. Ariel is in the market for many years and has built strong customer confidence. Quality conscious customers always prefer to purchase Ariel. Ariel is the most selling brand of Procter and Gamble. Ariel is a star product of P&G in BCG Matrix.
Brand Value: Since they value this product, clients who have used Ariel do not go back to any other detergent. This is contributing to a rise in Ariel's brand value.
Machine Wash: Ariel is preferred by the top washing machine producers than any other brand worldwide. This illustrates one of the strengths in the SWOT Analysis of Ariel.
Training and Development: Training and Development of the employees at Procter & Gamble is the main reason for its increased productivity.
Marketing Strategy: A marketing strategy is good if a company is generating a good profit and has a good brand image.
Online Presence: Company is taking advantage of online marketing and marketing its products through Google Ads, Instagram, Facebook, and other social media and online platforms. Thus we can say that the advertising & marketing plan of the company is good.
Provides options: Ariel is known for selling the market's first fragrant detergent. This indicates clear creativity on the part of Ariel.
Research and Development: P&G is spending a lot of money on the Research and Development of its detergent brand Ariel.
Market Analytics: Analysis marketing strategy depends on the market situation. The company is always using market analytics to formulate a marketing strategy. The marketing and strategic management practices of the company are good.
Branding Strategy: The company branding strategy is good and using an aggressive promotional strategy to promote its products and services on Television and Radio Ads. It is one of the major strengths in the SWOT Analysis of Ariel.
Offers and Discounts: P&G is giving attractive offers on Ariel is offered
Weaknesses in the SWOT Analysis of Ariel – Ariel SWOT Analysis
Tough Competition: Hindustan Unilever's Surf Excel is giving a tough competition to Ariel. Surf Excel has managed to grab more market share in India with its brand positioning and strong promotional strategies. The rates are very competitive as well. Surf Excel has the highest market share and Ariel trails in second position.
Use of Multiple Detergent Brands: People prefer to keep two detergents: one for standard clothing and one for clothing that is expensive. This suggests they go for some inexpensive daily detergent and good detergent such as Ariel for their good clothes.
Opportunities in the SWOT Analysis of Ariel – Ariel SWOT Analysis
New Opportunities: Ariel is willing to dream about winning new markets around the world. In developed and developing countries, emerging markets as well as rural areas will help Ariel capture a large market share.
Detergent Demand: India's detergent market is forecast to rise by 8% to 10%. The consumption of detergent per household is around 3.2 kg per year in India. To encourage the industry to expand at a rate of 8 to 10 percent each year the penetration level should be increased.
New Variants: If Ariel can come up with low-cost detergents for rural households with the same kind of cleaning process without hampering its brand name, then it can grab large market share.
Threats in the SWOT Analysis of Ariel – Ariel SWOT Analysis
Counterfeit: In rural markets, there is an issue with counterfeit goods. This limits the detergent's prospective revenues and therefore lowers its revenue and earnings and hampers the brand name.
Price Responsive Markets: India is a market that is price-oriented. Similarly, there are other markets that are still price-sensitive, including China. Ariel has to follow dynamic pricing.
Preference of other Brands: Mr. Muscle, Disappear and related detergents rely better on their intense ability to clean clothing. They're just a little bit more expensive than Ariel. So, people choose these special detergents in that price range instead of purchasing Ariel daily.
Rival Ambush Marketing: Many businesses also use ambush marketing to tarnish the reputation of another company with such consumer goods. It is critical for a brand like Ariel to always be at the forefront of these threats.
Changes in tax policies: Items like this, where a company battles for only the slightest advantage, a shift in tax policy will prove to be a big challenge.
Government Norms: Government Norms for Detergents and Soap can also be a major threat in the SWOT Analysis of Ariel.
If you like This Article Please Like our Facebook Page PROJECTS4MBA
Cite This Work
Referencing Style to cite this article:
[citationic]