SWOT Analysis of Aquaguard focuses on Strength, Weakness, Opportunities, and Threats. Strength and weakness are internal factors and Opportunities and Threats are external factors. Aquaguard SWOT Analysis helps the company to analyze its market potential and help company to formulate strategies.
First thing which comes in our mind when we talk about Water Purfier is Aquaguard. Hence we can say Aquagaurd is the other name of Water Purifier. Eureka Forbes is the company that manufactures and markets the water purifiers under the brand name Aquaguard. Eureka Forbes is a joint venture between India's Shapoorji pallanji group and Sweden's Electrolux.
Eureka Forbes is a corporation known for its promotional practises that are aggressive. They became the first company to introduce the sale of vacuum cleaners from door to door marketing. Direct Marketing Strategy of Eureka Forbes has created a different brand image of the company. You will have a home demo ordered from Eureka Forbes for their vacuum cleaners. Nevertheless, under the brand name of Aquaguard- Water purifiers lets dive in to SWOT Analysis of Aquaguard.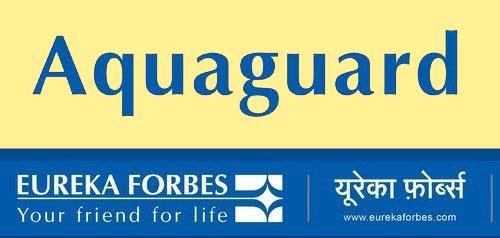 Strengths in the SWOT analysis of Aquaguard – Aquaguard SWOT Analysis
Good brand Image: In the water purifier industry, Aquaguard has almost become a popular brand name. The brand name is powerful because the first mass-level company in India to expand its wings was Aquaguard. Products offered by Aquaguard were also high quality and so the equity of the business grew to staggering heights. People still have faith and rely on Aquaguard for its purity and brand name.
Aquaguard was one of the first company to market water purifiers in bulk. It then has the benefit of the first movers. Other businesses, including Kent, quickly followed. Yet the benefit of the first mover does not disappear too quickly.
Aquaguard's product range includes a broad portfolio of Gravity water purifiers, UV water purifiers, RO water purifiers, and UV + RO water purifiers. Commercial water purifiers as well as industrial water coolers are now renowned.
Market share-Because it has a great brand name, a strong product selection, and the first advantage for movers, it already has a large market share. Aquaguard's market share is currently equal to 44 percent, while Kent has a market share of 32 percent.
One of Aquaguard's most impressive stuff is its tagline, Paani ka doctor. It's a lovely tagline that says a lot in 3 words. And this was the tagline behind which Aquaguard was focused on full marketing communications. It quickly developed trust in them when they used the term "Doctor" in the tagline. This slogan is one of the strongest to date.
Focus-Aquaguard 's benefit as a corporation is that only purification is their full focus. With water being poor in certain areas, the external climate helps them.
Return on Capital Expenditure: In the past, Aquaguard was able to effectively produce positive returns on the capital expenditure it spent on different ventures.
Automation: has enabled more effective resource utilization and cost reduction from various stages of production. It also enables its goods to be consistent in quality, and offers the flexibility to scale up and scale down production as per market demand.
Trained labor force: Aquaguard has invested heavily in its workforce training, which has resulted in it hiring a significant number of professional and motivated workers.
Has a diverse workforce, with people of many ethnic , racial, cultural and educational backgrounds who help the organization bring in various ideas and methodologies to do things.
Entering new markets: Creative teams from Aquaguard have helped it to come up with new products and reach new markets. In the past it was successful, in most of the initiatives it took in new markets.
Social Media: Aquaguard has a strong social media presence with over millions of followers on the three most prominent social networking platforms : Facebook , Twitter and Instagram. It has a high degree of customer engagement with low customer response time on those channels.
Website: Aquaguard has a well-functioning and engaging website that attracts a huge amount of traffic and sales on the internet.
Product Portfolio: Aquaguard has a broad selection of products where it sells products in a wide variety of categories. It has a range of exclusive product deals which competitors don't have.
Aquaguard has a well-established IT system which ensures its internal and external operations are successful.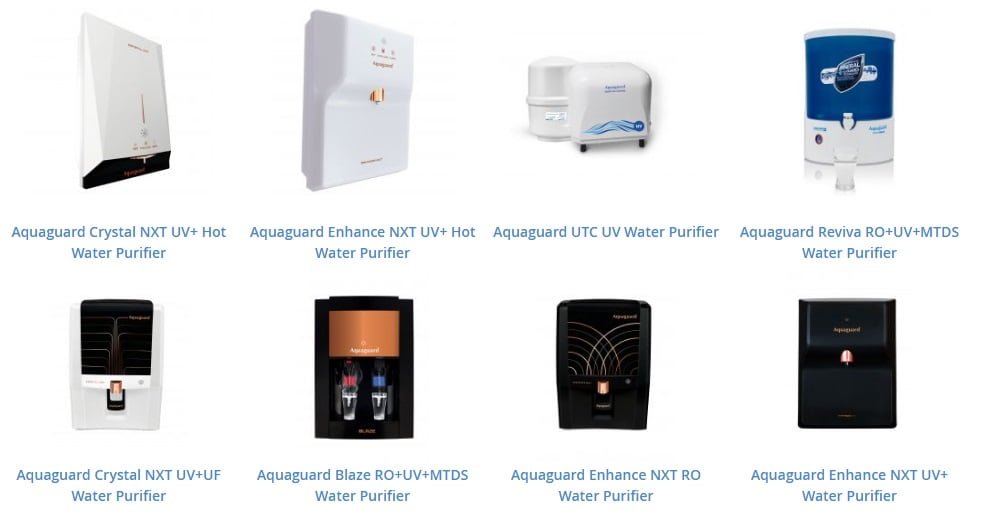 Weaknesses in the SWOT analysis of Aquaguard – Aquaguard SWOT Analysis
Service: Managing services for its large number of purifiers sold worldwide is one of the big problems that have recently emerged for Aquaguard. Servicing demands that spares be handled and people arrive on schedule at Aquaguard, which does not happen and thus impacts the company hard.
Local competition-Due to the low cost of manufacturing purifiers and because spare parts are difficult to obtain from larger firms, many regional competitors are emerging in local markets. As the profits of these local purifiers are high and as the cost is low, manufacturers have also begun to promote locally made purifiers.
Imitation: There are many Aquaguard imitators that create business issues. Also bogus and unauthorised replacement parts are being sold, undermining the water purifier 's credibility. In fact, due to this replication of the main brand , brand equity is being eroded. To monitor this, Aquaguard needs to assign a squad.
Opportunities in the SWOT analysis of Aquaguard – Aquaguard SWOT Analysis
While this is not ideal for us, water will not get better, but it is a truth that water quality will deteriorate more over the years and will not improve. And thus, for Aquaguard, the market is still open.
Gravity purifiers-The demand for gravity purifiers is growing with HUL joining the market for gravity purifiers. There is a very high understanding of gravity purifiers and the cost of such purifiers is minimal. So people can start keeping it in gravity purifiers instead of keeping the water in pitchers or jars.
Support and spare parts-Water purifiers have a wide demand for facilities and spare parts. The value of water purifiers is growing, be it in India or in foreign markets. But the spare parts like candles and filters have a staggering demand, more than water purifiers.
Channel expansion- For any channel player, this is a never-ending game and channel expansion is still used. The better the platform, the more revenue there will be.
Pick on local rivals, with Aquaguard now having superior goods than local rivals. However, by improving its service and communicating the differences between Aquaguards and others, the brand can take on local competitors directly and further increase its market share.
Threats in the SWOT analysis of Aquaguard – Aquaguard SWOT Analysis
Kent-Kent came a few years ago into the scene and is backed by powerful buyers. Where Aquaguard was based on UV purifiers, Kent opened up the RO water purifier market and took Aquaguard off the market. For Aquaguard, beating KENT in the RO business is going to be very difficult. With the funding it has, Kent and Aquaguard are going to be the water purification market's Coke and pepsi.
Cost of spare parts & services-Aquaguard 's market image is falling with the many recent concerns about the cost of spare parts and services. In comparison, even local distributors are mentioning Aquaguard's local brands and poor mouthing. This brings damage to the key brand, inevitably.
Penetration of filtered water: The more bottled water is sold, the fewer water purifiers are sold. Bisleri and Aquafina are brands that are quickly expanding through the industry. The need for water purifier decreases, of course, with the dispensers sold by these brands, along with the 20 litre water container.
If you like This Article Please Like our Facebook Page PROJECTS4MBA
Cite This Work
Referencing Style to cite this article:
[citationic]