SWOT Analysis of Amul Butter – Amul Butter SWOT Analysis focuses on (S) Strengths, (W) Weakness, (O) Opportunities, and (T) Threats. Internal Factors in the SWOT Analysis are Strengths and Weaknesses and External Factors in the SWOT Analysis are Opportunities and Threats.
SWOT Analysis is a proven management tool that helps brands such as Amul to assess the market of butter and its success against rival companies. Amul Butter has been one of the leading butter manufacturers of the country.
Amul is an Indian dairy cooperative located in Anand, Gujarat. Amul is administered by the Gujarat Co-operative Milk Marketing Federation Ltd. (GCMMF). Amul Butter is one of the most popular goods in the Amul portfolio. The iconic Amul girl was first created in 1967 for Amul Butter in response to the rival brand of Polson Butter Girl. Throughout the years, the Amul Butter Girl has achieved immense fame and created a name for itself.
Strengths in the SWOT Analysis of Amul Butter – Amul Butter SWOT Analysis
Good Advertisements: Amul as a brand is known for its innovative advertisement of Amul Girl's print, online, and social media ads. This generates a powerful Amul brand identity.
One of the best brand mascots: the Amul girl is one of the biggest brand mascots in India, and she's famous for her funny hoardings that people are looking forward to seeing.
Strong market share: Amul has a leading market share in most products in its portfolio, particularly in the Butter category, where it has a market share of over 85 percent.
Excellent distribution channel: Amul has a very large distribution network, with a footprint throughout the world. It is sold through both new and conventional distribution networks.
Good product quality: Amul butter has been rated high on product quality and has been able to gain market confidence. It stands by its slogan, which reads "Amul – The Flavor of India."
Affordable pricing: In order to maintain its high market share, Amul is committed to maintaining a low pricing strategy. It has a market-oriented pricing approach that is sustainable for the typical Indian household.
Consumer portfolio backup: because of Amul 's large product range, such as ice cream, milk, and other similar dairy goods, Amul will dominate the retailer by selling Amul butter.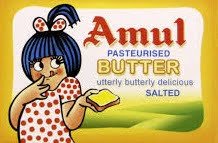 Weakness in the SWOT Analysis of Amul Butter – Amul Butter SWOT Analysis
People prefer local butter – Some people prefer to use homemade and local butter. This reduces the size of the market for Amul.
Rare limited advertising: Amul butter has a share of the drawbacks of being part of the Amul branded family. Although Amul is very popular as a brand, its products usually remain in the background and depend on Amul 's popularity.
Limited Shelf-life: Butter has a low shelf life and requires refrigeration to be able to preserve its form. Amul has a wide supply chain network that needs extra precautions considering the shelf life of its dairy products.
Opportunity in the SWOT Analysis of Amul Butter – Amul Butter SWOT Analysis
Developing the rural market: Amul should be available in small packets of special butter items for the rural market in order to tap into a high potential rural demand as well.
Tie-ups with hotels and restaurants: Amul will look forward to tie-ups with restaurants and hotel chains. It's already got huge ties, but this is an ever-growing segment. This will help to increase revenue and profitability.
Launch new variants: Amul will plan to introduce new models to reach a larger consumer base. It has also been used in versions such as garlic butter and low-fat milk.
Threat in the SWOT Analysis of Amul Butter – Amul Butter SWOT Analysis
Local Players: Local Players who are manufacturing Butter can have an adverse effect on the market share of Amul and will hence also have an effect on profitability.
Growing health consciousness: increasing health awareness decreases the intake of dairy products, in particular butter. It is impacting the bottom line of the organization.
Rising Constituent Prices: Due to the excess demand for dairy goods and the growing cost of production, the cost of butter-like milk constituents is continuously increasing, which puts pressure on Amul to raise the prices of Amul butter.
Low-Fat Variants are Less Popular: Low Amul Butter variants like Amul Lite are less popular and therefore create an opportunity for competitors like Nutralite to create a market for themselves.
If you like This Article Please Like our Facebook Page PROJECTS4MBA
Cite This Work
Referencing Style to cite this article:
[citationic]