SWOT Analysis of Amazon focuses on Strength, Weakness, Opportunity, and Threats. Strength and Weakness are internal factors and Opportunities and Threats are external factors.
Amazon was one of the first online bookshops and quickly became the world's largest internet retailer, and now, even though it has a lot of competition, Amazon's swot research shows us that Amazon has a solid base of loyal buyers who regularly order from online retailers. Here's the study of the Amazon SWOT.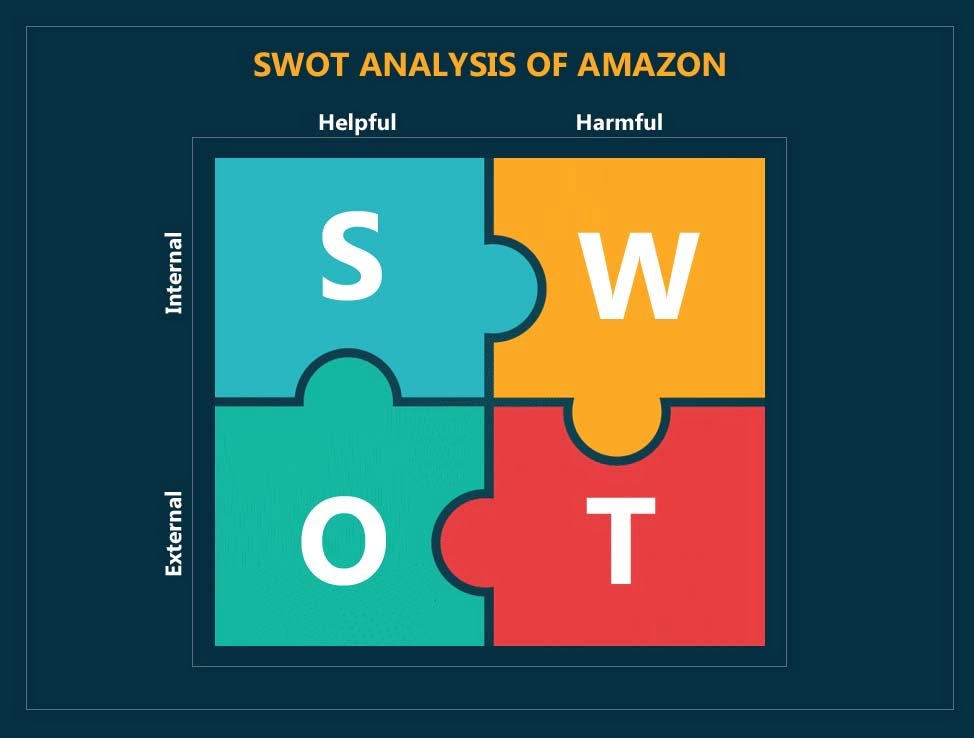 Strengths in the SWOT Analysis of Amazon – Amazon SWOT Analysis
Strong history and deep pockets – Based on early achievements in books, Amazon now has product lines that include electronics , toys, sports, home and kitchen, white goods, brown goods, and more. Amazon has grown into a multinational e-commerce leader over the past two decades.
Customer-centric: a robust CRM firm has developed consumer-centric systems to carefully monitor customer purchasing activity data. This allows them to sell individual objects, linked objects or to package them as a deal on the basis of interests shown by sales or products visited. The company further reports that 55% of its consumers are returning buyers, resulting in a low cost of attracting new buyers.
Cost management: In order to distinguish itself, the organisation has formed many strategic partnerships with other businesses to deliver better customer support. Logistics companies that manage prices are the most significant competitive ties. This leads to a solid supply chain. Amazon is in a position to minimise product replenishment time by drawing on economies of scale.
Effective fulfillment network: Amazon has built a large and organised distribution network through its strategic partners & with its Amazon fulfilment centres in order to make the product accessible even in remote areas. It also has no expense shipping costs in some geographies.
GLOCAL approach: using the "Go Global & Act Local" technique, Amazon is able to compete with domestic e-commerce firms by acquiring & forming / partnering with supply chain companies. Branding, too, is achieved according to the local palate. For eg, Amazon is currently using the "Aur Dikhao" campaign in India to inspire consumers to search more of their items.
Acquisitions: Purchasing businesses such as Zappos.com, Junglee.com, IMBD.com, woot.com etc. has proved to be a fruitful and revenue-generating move for the E-Commerce giant.
Significant number of third-party vendors – Owing to the heavy traffic rate on Amazon sites, a huge number of third-party vendors have entered the Amazon Marketplace to market their own products. The data from Delivery by Amazon ( FBA) shows that more than 2 billion products are available from third-party vendors.
Go National and Behave Local Approach – Amazon has gained the most from this approach. Amazon is forming alliances with local supply chain firms that help it succeed against domestic e-commerce rivals. It recognises local needs and delivers its programmes in accordance with the culture of the region.
In India , for example, a consumer initiative called "Aur Dikhao" was launched to inspire consumers to scan more of its products.
Effective acquisitions of Entire Foods, Zappos.com, woot.com, Junglee.com, IMBD.com, and several more have driven substantial sales and profits for Amazon.
The three key companies involved – Amazon Marketplace, Amazon Web Services (AWS) and Amazon Prime – are three major Amazon companies who operate and support each other. They produce huge revenues and benefits for the company as a whole.
Business Leader – With over $1 trillion in market capitalization and over $280 billion in gross sales, Amazon is undoubtedly a global pioneer in online shopping.

Weaknesses in the SWOT Analysis of Amazon – Amazon SWOT Analysis
Shrink margins: due to large distribution network & price wars Amazon's profits are declining, resulting in losses.
Problem of tax evasion: Amazon has received bad attention due to tax avoidance in countries such as the United States and the United Kingdom. Much of the sales comes from these well-established industries.
High Debt: In many developed countries, Amazon is also trying to make a company viable, reducing the overall viability of the organisation resulting in high debt.
Product Flops – Amazon launched a fire phone in the US that was a major flop. Around the same time, the Kindle fire did not pick up as quickly as the Kindle fire did. As a result, there were some product flops that caused a dent in Amazon's deep pockets.
Opportunities in the SWOT Analysis of Amazon – Amazon SWOT Analysis
Backward integration: Amazon will come up with its in-house products in a range of product categories. They will also distinguish their products. This would help them make money on a highly competitive e-commerce industry.
Global growth: growth primarily in Asian and emerging countries would benefit Amazon, since these are areas with low competition in e-commerce and are not crowded as developed economies.
Acquisitions: when purchasing e-commerce firms, the amount of competition can be lowered and the technical resources of the other business can also be utilised.
Opening retail outlets in the U.S.: by doing so, Amazon will encourage consumers to connect with the company, resulting in increased return sales and increased loyal consumer base.
Threats in the SWOT Analysis of Amazon – Amazon SWOT Analysis
Low entry barriers of the industry: Low entry barriers impact the market of the existing player, as more and more businesses mean intense competition, pricing wars, declining profits and losses resulting in challenging the viability of the firms.
Government Regulations: the lack of clarification on issues relating to FDI in multi-brand retail has been a significant barrier to the growth of e-commerce companies in many developing countries.
Local rivalry – India has snapdeal and Flipkart, which are small e-commerce stores that take away the bulk of the market. Likewise, there are many smaller competitors who take their bites from the market share, making it impossible for a major player like Amazon to make a return.
Legal Threats – Amazon is one of three online companies facing the US State Department 's investigation of retaining supply chains and labour outlets related to human rights violations. This exposes the e-commerce giant to reputational, economic and legal threats.
Can cybercrime may have an effect on the company's network protection framework.
Imitation is easy, since many new competitors typically come up with the same Amazon business model on the market.
Fake Products – The rise in fraudulent and counterfeit goods is affecting Amazon 's revenues. The corporation also filed a lawsuit against New York-based online retailer for reportedly counterfeiting Valentino bags, Amazon's premium Italian fashion brand.
Economic crisis – Amazon is not safe from global recession. If economic instability worsens, it can have an effect on Amazon revenues.
If you like This Article Please Like our Facebook Page PROJECTS4MBA
Cite This Work
Referencing Style to cite this article:
[citationic]