SWOT Analysis of Allen Solly focuses on Strengths, weaknesses, opportunities, and threats. Strength and Weakness are the internal factors and Opportunities and Threats are the external factors that influence the SWOT Analysis of Allen Solly.
Allen Solly was established around the year 1744. It was established as part of the company and William Hollis. However, Allen Solly was later acquired by Madura's Fashion. Madura's clothes are now known as Madura's fashion and lifestyle.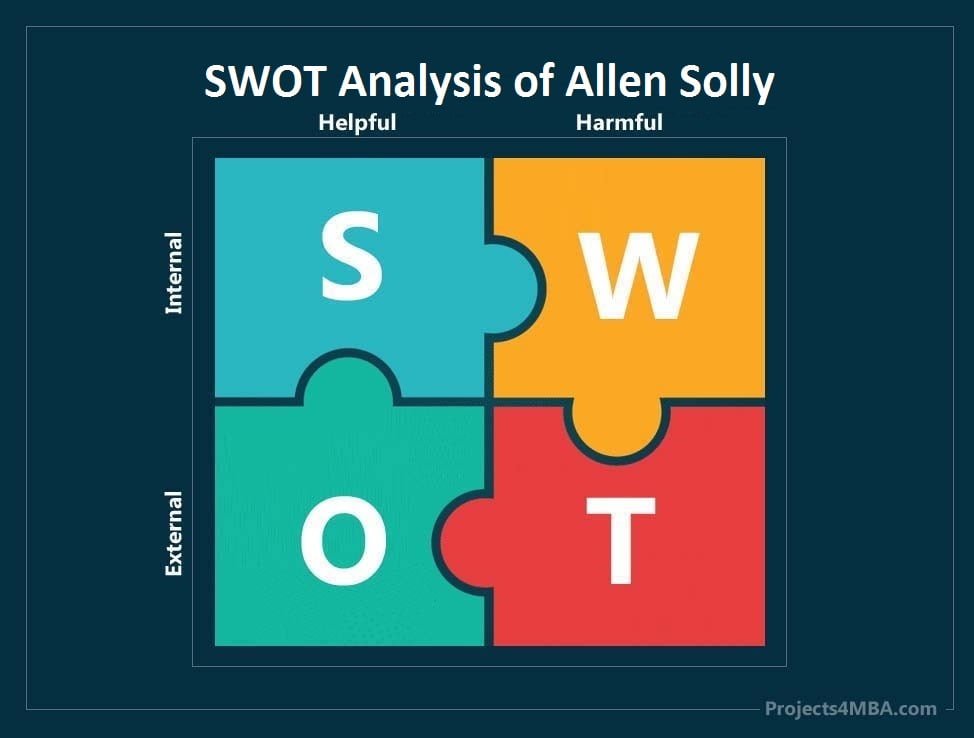 Strength in the SWOT Analysis of Allen Solly – Allen Solly SWOT Analysis
Brand Allen Solly: The Brand Equity of Allen Solly has grown steadily since its inception. Allen Solly is known for its casual clothing. Allen Solly is a well-known brand that has a high brand value.
Sub Brands: Allen Solly has a wider reach to the apparel market. Allen Solly is known for its casual wear, sportswear, jeans, and professional clothes for women. Allen Solly also has a wide range of Children Casuals.
Financial Backing: Allen Solly is owned by Madura Fashion. Madura Fashion has brands such as Peter England, Louis Philippe, Van Heusen and Allen Solly under its umbrella.
Experienced Team: Allen Solly has an experienced team that understands the changing desires and demand of consumers and innovates new designs and products.
Good Training and Development Programmes for its Employees: High-level personal skills can be acquired through training and development programmes. Allen Solly is providing rigorous training to its employees resulting in an enthusiastic and motivated team.
Brand Portfolio: Allen Solly has built a strong portfolio of brands. The SWOT analysis of Allen Solly clearly confirms this element. This organization's brand portfolio can be extremely useful for them if they want to enter new product lines.
Rich and International Feeling: Allen Solly is an Indian brand but due to its showroom ambience and quality of products and its advertising it gives a feeling that it is an international brand. Allen Solly clothing has a rich feel.
Weaknesses in the SWOT Analysis of Allen Solly – Allen Solly SWOT Analysis
Employee Turnover: Compare to other organizations in the industry Allen Solly has more attrition rate and must spend more money on its staff.
Less Global Presence: compared to its competitors like Arrow, Allen Solly has a weaker global penetration and should work towards increasing its global presence.
Opportunities in the SWOT Analysis of Allen Solly – Allen Solly SWOT Analysis
Increased Market Reach due to E-Commerce: With the increase in usage of mobile internet and the use of fiber to the home broadband network, people are shifting towards online shopping. This can be a great opportunity for the brand as well as Madura Fashion.
Expanding in New Markets: Increasing demand for branded apparel in emerging countries and markets can help the company to generate more revenue. Allen Solly has marked its presence in more than 50 countries. The company can expand its business.
Brand Extensions: The brand name of Allen Solly is good and it is a well-established brand and company can extend the brand name of Allen Solly in product categories like footwear, wallets, belts, etc.
Digital marketing and Social Media: Social Media and Digital Marketing Platforms can also be used to promote and sell Allen Solly Products.
Increasing Demand: Increasing demand for apparel can also be seen as new opportunities.
Threats in the SWOT Analysis of Allen Solly – Allen Solly SWOT Analysis
Intense Competition: The apparel industry in India has grown and competition is high.  This can be a major threat to the company.
Rules and Regulations: Government Rules and Regulations can be a major threat to the company.
Increasing Raw Material Prices: Increasing raw material prices can directly affect the profit margins and pricing of the brand.
Liability Laws: The liability laws in different countries are different, and Allen Solly may be exposed to various liability claims.
Local Retailers: Allen Solly has also to compete with local retailers. As local retailers offer apparels at lower prices.
You can also recommend https://projects4mba.com to your friends for MBA Projects.
If you like This Article Please Like our Facebook Page PROJECTS4MBA
Cite This Work
Referencing Style to cite this article:
[citationic]