SWOT Analysis of Airtel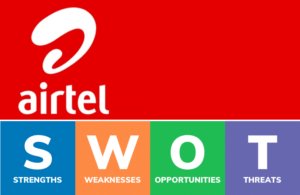 In this article we have done SWOT Analysis of Airtel. Airtel is one of the largest telecom service provider in India.
Strengths in the SWOT analysis of Airtel:
Renowned Telecom Company: With its 19 + years of rich experience in the telecommunications industry, Airtel has traveled far and wide to become the world's third largest overseas telecommunications operator with operations in 18 countries across South Asia and Africa, as well as in the Channel Islands.
High Brand Equity: one of the leading telecommunications companies with a high brand warning and a colossal subscriber base.
Advanced infrastructure: with the establishment of the Indus Tower & as a result of its alliance with Idea & Vodafone, Airtel's network has been expanded to all parts of the country resulting in national penetration.
Strategic Alliances: The company has leading investors, Sony Ericsson, Nokia and Singtel, and the most recent one is Apple. These strategic alliances raise the credibility of the product and the bottom line of the business.
Technology: Airtel infrastructure is manufactured and operated by Ericsson, Huawei and Nokia Networks while IT support is provided by Amdocs. The transmission towers are maintained by Bharti subsidiaries and joint venture companies, including Bharti Infratel and Indus Towers in India.
Flag bearer of the telecommunications industry: With its number 1 spot due to its excellent services in developing economies, Airtel has interconnected people's lives in a highly efficient manner. As a result, where Vodafone is an international entrant, Airtel is the nation's leading player in India and the torchbearer of the telecommunications industry in India.
Weaknesses in the SWOT analysis of Airtel:
Outsourced operations: Outsourcing operations have helped Airtel minimize its costs. On the other hand, however, they run the risk of being dependent on certain other companies which may have an effect on their operations.
Venture into African operations: Although it's been many years since Airtel purchased Zain's African company, Airtel is still struggling to transform the unit that was bought to the tune of 9 billion dollars.
High Debt: As its acquisitions turn out to be bad investments and credit is high and the margins are weak, Airtel is under high debt. Airtel does not have the deep pockets as of Reliance Jio.
Opportunities in the SWOT analysis of Airtel:
Strategic Partnership: Partnering with smart phone companies will be a smart strategy for MNP (Mobile Number Portability in India). This will secure stable cash flows and a larger customer base in the future.
Market development: with ferocious competition in the telecommunications industry & shrinking margins, venturing into new markets/developing economies will prove to be a success for the company.
VAS: VAS (Value Added Services) is moving towards the future of the telecommunications industry, and by focusing in this vertical segment, Airtel can distinguish itself in a highly competitive market. With the launch of exclusive offerings, Airtel may have higher margins.
Untapped scope of the current market: although it currently provides 3 G & 4 G coverage, such networks are restricted to specific geographic areas. Expansion of these services to most of its regions would help the company to achieve more profits and customers.
VAS: VAS (Value Added Services) is going to the future of the telecommunications industry, and by focusing in this area, Airtel can distinguish itself into a highly competitive market.
LTE: The whole cellular world is moving towards LTE (long-term evolution or 4 G). Mobile broadband LTE can be a good solution for India where fixed broadband penetration is otherwise poor. Airtel has taken the lead with this variant of LTE in four markets, but the rollout needs to catch up. Notwithstanding India's weak LTE environment, Airtel will portray itself as the welcoming of that technology. The company lacks a national 3 G spectrum license in 13 out of 22 telecommunications service areas. Airtel's mobile broadband LTE network is still limited to only four cities in India.
Upcoming 5G Technology adoption can also make Airtel as No.1 Telecom Company.
Threats in the SWOT  analysis of Airtel:
Government Regulatory Framework: As a result of the normal auctioning of spectrum & change in government policies, there is a possible threat to the stability & life of this market, thereby affecting players.
Competition: the price war in the home market and the rising margins are adversely affecting the group's overall business.
MNP (Mobile number portability): MNP gives the consumer flexibility to switch the service provider while keeping the number, and since Airtel rates are premium over other service providers, it can see a decline in the subscriber base.
Reliance Jio 4 G Services Tariff and New Technology adoption by competitors can be a big threat for Airtel.
Airtel, one of India's largest telecommunications companies, has spread widely over the past two decades of its existence. The company is known for its quality and value-added smart range of services Here we present Airtel's SWOT analysis to understand the company's strengths, vulnerabilities, opportunities and risks.