SWOT Analysis of Acer focuses on Strengths, weaknesses, opportunities, and threats. Strength and Weakness are the internal factors and Opportunities and Threats are the external factors that influence the SWOT Analysis of Acer.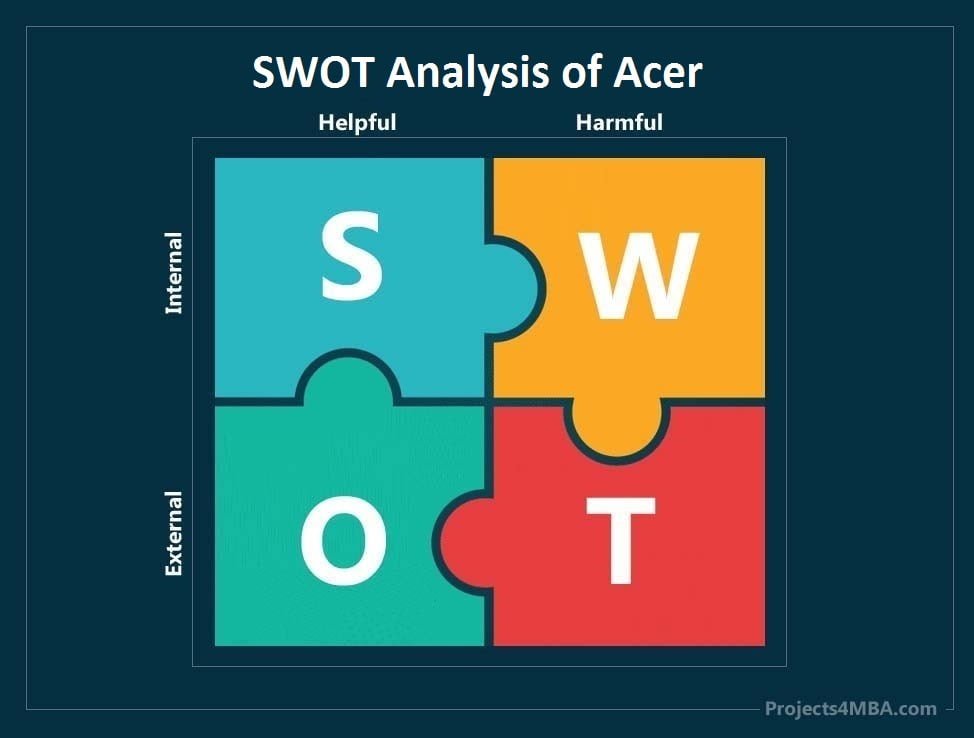 Acer is one of the leading consumer electronic companies. Acer has a great presence in servers, laptops, desktops, monitors, displays, tablets, handhelds, and smartphones. Acer has its headquarters in Taiwan. Acer is ranked 6th by sales among the PC Vendors in the world. Acer has its operations throughout the world. The company employs over 7,000 people, with offices in 40 different countries. Gateway Inc., eMachines, Packard Bell, and Escom are the subsidiaries of Acer.

Acer India had been a fully owned company of Acer International has started its operation in India in the year 1999. It is a prominent company in mid-range laptop PCs and low-range notebooks. Although in India, the Acers headquarters is in Bangalore.
Strength in the SWOT Analysis of Acer – Acer SWOT Analysis
Low Pricing Strategy: Compared to other brands such as Dell, HP, Apple, etc., Acer offers Laptops at a cheaper rate, which is an advantage for the company. Thus we can say that Acer is following a Low Pricing strategy. One of the reasons Acer's ability to market devices at a lower cost is its operational efficiency.
Supply Chain: The supply chain of Acer is recognized and benchmarked as an indicator of end-to-end operating performance.
International Presence: Acer has more than 7000 staff worldwide working in 40 countries and has store stores scattered across 160 countries.
Reach Masses: Acer has been able to reach the masses due to its multinational footprint and has been active in retaining a low price structure.
Netbooks: Acer has a list of netbooks and Chromebooks that are often classified as small notebooks. Acer laptops have been widely accepted on the market. Acer is the largest netbook brand.
Rankings: Acer is the sixth-ranked brand in the Laptop sector and has a market share of 6.9 percent.
Distribution Channel: The distribution channel of Acer is good and has a wide reach.
Employee Training: Acer is giving special emphasis on Employee training to increase its earnings.
Research and Development: Acer is involved in research and development which will help the company to increase its profits.
Weaknesses in the SWOT Analysis of Acer – Acer SWOT Analysis:
Low Presence in B2B Market: Acer has a comparatively less presence in B2B markets compared to rivals such as Dell, HP, Lenovo, etc.
Product Range: Acer wants to expand its product range by including quality brands as well as diverse realms. Its lower pricing strategies drive customers away from it searching for quality or customized items. Acer is often the subject of a negative impression that low price and low quality are equivalent.
Quality Concerns: As long as you hold the price of the goods down, customers feel that the quality of the product would be lower. This is a rough time reaching the Acer brand. The perceived consistency of the brand is poor due to its penetrative costs.
Opportunities in the SWOT Analysis of Acer – Acer SWOT Analysis
Low Price Opportunities: With the introduction of computers and the internet, demand for laptops and cell phones is on the rise. Acer, having a range of low-priced goods will make effective use of this opportunity.
Economic slowdown due to Pandemic: In a circumstance of economic slowdown, Acer could be the preferred alternative to ensure lower cost efficiency.
Gaming / Premium Laptop Demand: Due to the increased demand for gaming and virtual reality people prefer gaming laptops. This demand can be seen as an opportunity by Acer. While cost is the benefit of Acer, it may deliver a premium line of high-performance and rugged laptops. This adds market equity to the brand and will later contend with top players like HP, Dell, or Hewlett Packard.
New markets: Acer can extend its footprints in the new emerging markets in developing countries to increase its profits.
Threats in the SWOT Analysis of Acer – Acer SWOT Analysis
Intense Competition: There are many players in the market and Acer is facing tough competition from HP, Lenovo, MSI, Dell, etc.
Low margins: Low margins can influence the brand in the long run. Acer has to change the margins to increase the margins resulting in the reinvestment of the brand in branding and marketing practices. If penetration pricing persists, the net margins would be lower.
Government Norms: Government norms in many countries can have a direct impact on the business of Acer.
If you like this article you can recommend your friends about PROJECTS4MBA.COM
If you like This Article Please Like our Facebook Page PROJECTS4MBA
Cite This Work
Referencing Style to cite this article:
[citationic]