SWOT analysis of Absolut Vodka analyzes the strengths, weaknesses, opportunities, and threats of the brand / company. Strengths and weaknesses of Absolut Vodka SWOT analysis are internal factors, while the external factors are opportunities and risks.
SWOT Analysis is a validated management method that helps a brand such as Absolut Vodka to evaluate its company and success against rivals and industry. Absolut Vodka is one of the world's leading Spirit brand. In this article author has listed the top Absolut Vodka competitors.
Absolut Vodka is a product of vodka manufactured in southern Sweden. Absolut is one of the world's largest spirits brand after Smirnoff, Bacardi, and is available in 126 nations. Absolut belongs to Pernod Ricard's group. In 2008, Pernod Ricard acquired Absolut from the Swedish state for a price of 5.63 billion euros.
Absolut has a philosophy of manufacturing Vodka at one place. This means their production takes place in Sweden. Both the water and the wheat come only from the village. Absolut utilizes Carbon dioxide neutral distillation (carbon emissions are reduced by tree planting which absorb Carbon dioxide throughout their lifetime).
Absolut vodka is one of the top five brands in the world engaged in the sales of spirits and vodka. Absolut Vodka is a third ranking brand of the alcohol industry and is behind Smirnoff and Bacardi.
Here is the SWOT analysis of Absolut Vodka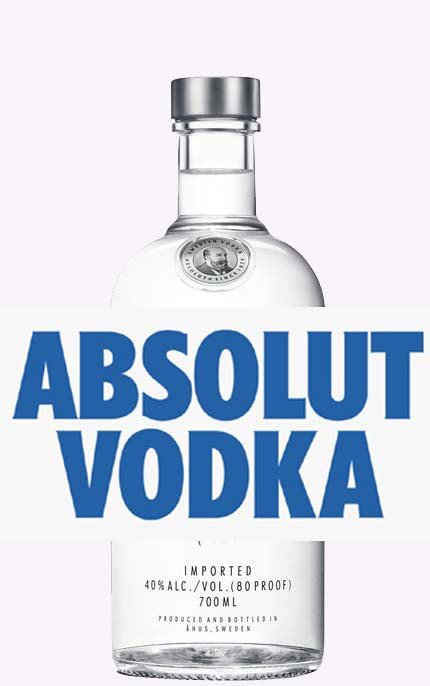 Strengths in the SWOT analysis of Absolut Vodka – Absolut Vodka SWOT Analysis
Global brand identity: One of Absolut vodka's biggest advantages is its worldwide reach, which has given it universal brand equity. Absolut is most concentrated in America, UK, and Asia, three of the world's largest continents.
Bottle of Absolut Vodka: One of the largest and most silent promotional campaigns in the history of alcohol is the Absolut Bottle. The bottle is distinctive and has a history of its own and has been heralded as the face of Absolut's ad strategy since 1980. The bottle is also universally recognized.
One source of production: quality is of prime significance in Absolut due to the fact that all production comes from a single factory in Sweden. They own a huge farm of winter wheat, which is really the only means of development for their spirits. So it could be any corner of the planet, no one could argue that Absolut was poor or different. It's only one source, one wheat.
Heritage: Absolut vodka has also been known since 1879 (in another name) and is, therefore, one of the oldest in the origins of alcohol. It has been legally marketed since 1979 as Absolut vodka. Clear focus: The parent company Pernod Ricard has 5 drivers of strategy which has given them focus to date. Out of the 14 top brands, they focus on 2 to leverage their brand and the growth of the company.
Flavors and variants:  Absolut vodka itself has 21 variants. Each variant is priced differently, and Absolut is recognized to release a series of spirits that are sold at a high price due to its distinctive value.
Good promotions: Absolut has strong below the line promotions.   Absolut still expresses and reveals itself to be a trendy brand and totally in tune with the time. POP ads, sponsorships are some of the places Absolut holds an eye out at all times.
Weaknesses in the SWOT analysis of Absolut Vodka – Absolut Vodka SWOT Analysis
Cost: Because Absolut says one origin, the cost is extraordinarily high because transportation across the globe costs so much.
Competitive market: Smirnoff, Bacardi, and Absolut are competing brands. And all of them have identical attributes but their promotional campaigns are a major difference.
Constraints on ads: One of Absolut's drawbacks is that it cannot market or distinguish itself. Absolut could by no reason of its own, sell alcohol openly on televisions. However, where the Bacardi and Smirnoff CDs are popular, Absolut did not make the same strategy for advertising its products. As a result, the recall of the Absolut Vodka decreased relative to Smirnoff and Bacardi.
Opportunities in the SWOT analysis of Absolut Vodka – Absolut Vodka SWOT Analysis
Growing Demand: The planet is getting smaller. Today, more and more individuals demand and require alcohol. People have embraced drinking as a fun practice and many use it to refresh themselves. With such consumer adoption in both emerging and developed countries, the scale of the market is increasingly growing.
Online sales: E-commerce is increasing and while some of the top e-commerce companies are hesitant to market the goods online, in the countries where it is sold, Absolut should take action to ensure that it is available online. They need to target direct consumers in order to raise margins.
Threats in the SWOT analysis of Absolut Vodka – Absolut Vodka SWOT Analysis
Long Time Competition: Absolut Vodka is facing tough competition from Smirnoff and Bacardi. If Absolut expands its distribution then only it can compete with Smirnoff and Bacardi. The company can also try to promote its products on social media and on the internet. 
Growing fuel costs: As the delivery of Absolut Vodka relies solely on transportation because its manufacturing unit is in Sweden, Absolut Cost will be greatly affected by the rise in fuel costs.
Government policy against alcohol: Due to government intervention, several locations have completely stopped selling alcohol. Both alcohol businesses are negatively affected wherever alcohol is banned.
Rising Government Taxes: The government usually raises excise duty and import duties on international brands in certain countries owing to government taxation. In the end, such taxes result in increasing prices for the brand itself.
If you like this article please like our Facebook Page PROJECTS4MBA
Cite This Work
Referencing Style to cite this article:
[citationic]