This article presents the Marketing mix of Samsung. The marketing mix comprises attributes of a marketing mix consisting of product, place, price, promotion, process, people and physical evidence. The marketing experts are using this tool. The marketing mix plays a significant role in deciding the services and products offer. Samsung's Marketing Mix analyzes brand and product offerings too. These seven marketing mix components should be seen as one unit and endorse each other. Otherwise, the marketing strategy of a product would be confusing. Now we will discuss Samsung's marketing mix.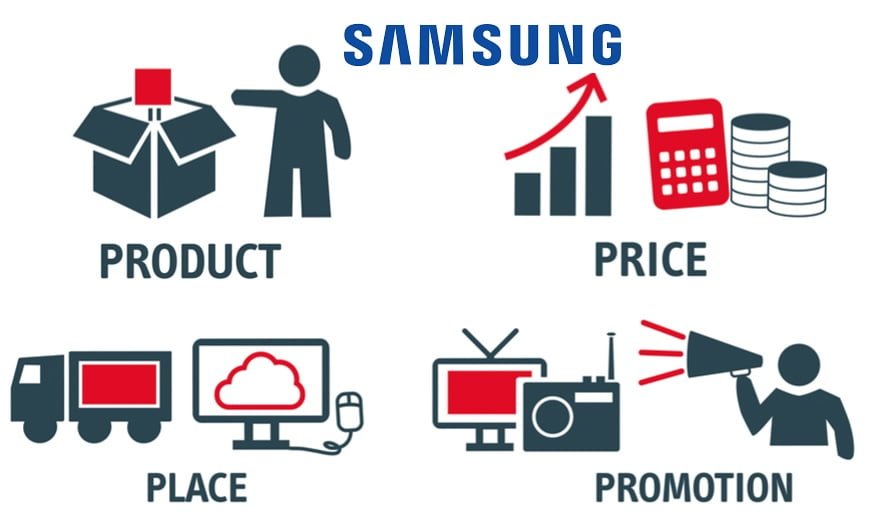 Product in the Marketing Mix of Samsung – Samsung marketing mix (7Ps)
Product is one of the major components in the Marketing Mix of Samsung Electronics products are developed and produced in 6 global design centers and in 53 global manufacturing facilities. There are 34 R&D centers around the world engaged in the production of new goods. As shown in the following table, Samsung products can be divided into three divisions and each division includes more than one product category.
Product divisions and product categories of Samsung are:
Product division
Product categories
Consumer electronics
Visual display business
Digital appliances business
Printing solutions business
Health and medical equipments business
IT & Mobile Communications
Networks business
Mobile communications business
Device solutions
Memory business
System LSI business
Price in the Marketing Mix of Samsung – Samsung marketing mix (7Ps)
The pricing strategy of Samsung can be defined as a combination of the following pricing strategies depending on the product range, time of launch and the climate of the outside market.
Price skimming: Samsung typically places expensive price tags on its most recent smartphones and other items with advanced and revolutionary features. Samsung reduces costs and increases its market share as quickly as rivals launch goods with the same features and capabilities. "Galaxy S8 and S8 Plus smartphones, for instance, started to see discounts of more than USD 150 within two months of their launch".
Competitive Pricing: Samsung is an industry leader for displays and smartphones. It does not, however, hold the same role in all segments of the organization. For example, for home appliances, Samsung can not possibly surpass LG. Cannon and Nikon are both the industry leader in cameras. Samsung, therefore, applies aggressive pricing for its goods and cameras for domestic appliances and claims a position of these markets.
Pricing of the product line: In order to build specific quality levels in customers 'minds, Samsung uses commodity price lines to classify its goods into price groups. For eg, as of September 2017, the Galaxy 8 smartphone costs GBP 689 on the Samsung UK website, while the Galaxy S8 + costs GBP 779.
Place in the Marketing Mix of Samsung – Samsung marketing mix (7Ps)
The place is the third component in the Marketing mix of Samsung. Samsung is active through different channels in the market. Samsung also works on the concept named channel marketing which has three segments. Sales and service dealers, Modern retail & Distributors. The duty of sales and service dealers is to handle key accounts for Samsung and to involve in corporate sales. They may open showrooms for Samsung as well. Modern retail includes large retailers who are active in the modern retail chain. Retailers are bound to keep Samsung because of being such a branded company. For Samsung, the most interesting segment is a distribution network. Samsung has a single distributor in several cities in order to distribute throughout a territory. There are 53 international sales offices in Samsung and the global electronics corporation uses the following distribution channels:
Distribution and service dealers: This channel is related to corporate sales.
Modern company-owned retail outlets: There are very attractive shops with representatives of customer service and staff called Galaxy Consultants. In 2015, 158 Samsung direct management stores were operated by Galaxy Consultants in Korea. The corporation plans to extend the Galaxy Consultants 'system outside Korea.
Distributors: Samsung has country distributors, territory distributors, and regional distributors.  Samsung can grant distributor rights for a specific product category or all Samsung products depending on the area, size, and experience of the distributor.
Online Sales: Customers can pick and order Samsung items through the company's official website.
Promotion in the Marketing Mix of Samsung – Samsung marketing mix (7Ps)
Promotion is the main component of the marketing mix of Samsung. Samsung uses many promotional forms. Through newspapers and digital media, Samsung sells its goods. Samsung claims that advertisement is the perfect way to reach its future customers. Samsung uses often difficult tactics to sell the product to the consumer.
Those are the core components of Samsung's marketing mix in the business world. For advertisers, their marketing strategy is a great lesson.
Marketing mix strategies are essential channels that any organization should pursue to meet customers. Cost, commodity, advertising, and placement components are targeted to the target audience or customers who are the product's final users.
People in the Marketing Mix of Samsung – Samsung marketing mix (7Ps)
People are one of the components in the Marketing Mix of Samsung. Samsung Key People are Lee Kun-hee(Chairman) & Lee Jae-yong (Vice-chairman). Samsung has 320671 employees. As employees are the key asset of the company. Samsung has increased its revenue by US$ 208.5 Billion in 2018. Samsung subsidiaries are Samsung Electronics, Samsung Engineering, Samsung C&T Corporation, Samsung Heavy Industries, Samsung SDS, Samsung Life Insurance, Samsung Fire & Marine Insurance,  and Cheil Worldwide.
Process
The process is one of the components in the Marketing Mix of Samsung. Samsung consists of approximately 80 businesses. It is highly diversified and has operations in fields including manufacturing, consumer electronics, financial services, shipbuilding, and medical services. Samsung is following industries' best practices and processes for the manufacturing of its products.
Physical Evidence
Physical Evidence is one of the components in the Marketing Mix of Samsung. The company markets its products in different colored packaging that can be readily found on store shelves. They are put on the company's special shelves, which have a different color and design. It allows the placement of these shelves in active retail stores for customers.