Marketing Mix of Big Bazaar analyzes 7Ps of service marketing mix which covers product, place, price, promotion, people, physical evidence, and process. There is a series of big bazaar marketing strategies that helped the brand to flourish, such as product/service innovation, investment in marketing, customer experience, etc.
Marketing strategy helps businesses to meet business objectives and priorities, and the Marketing Mix (7Ps) is commonly used in service marketing.  The product, place, price, promotion, process, people, and physical evidence used by Big Bazaar are elaborated in this article.

Marketing Mix of Big Bazaar
1. Product
Product in the Marketing Mix of Big Bazaar: Big Bazar's product can be categorized as clothing, food, home, farm products, chill station, and personal care. The apparel typically includes denim dresses, T-shirts,  casual clothing,  ethnic clothing, party wear, accessories, and undergarments. Big Bazaar provides food that includes ready-to-eat boxes, spices, cold drinks, tea, and coffee, etc. Farm products include potatoes, nuts, milk products, and citrus and luxury nuts imported. At Big Bazaar Chill Stations sell soft drinking food, packaging of juices, frozen foods and ice creams, milk, and milk products. Big Bazaar is also selling Meat, Fish, Prons, and chickens both cooked and uncooked.  Detergents, soap, creams, deodorants, disposable goods, and vaults are part of the home and personal care. In addition to those Big Bazaar, Electronics, apparel, jewelry, and children's items are also available. Big Bazaar is also selling groceries.
Big Bazaar is also selling products of various brands like Allen Solly, Levis, Coca- Cola, Pepsi,  HUL, Britannia, ITC, P&G, Unicharm, LG, Samsung, Nokia, HP, etc.
Big Bazaar also selling a number of its home brands like :
DJ & C
Sensei
Tasty Treat
Clean Mate
Care Mate
Koryo
and 44 other brands.
2. Price in the Marketing Mix of Big Bazaar
The Big Bazaar target is to obtain 'Max Market Share.' Some of the Pricing Techniques used by Big Bazaar are: Pricing is based on Value Pricing (EDLP-Every Day Low Price): Big Bazaar promises the lowest price without coupons, waiting for discount promotions or comparison shopping, without the need to cut off coupon prices for the consumers.
Promotion pricing: Big Bazaar provides low-interest rate financing. Big Bazaar uses psychological discounts (Rs. 99, Rs. 49, etc.) to attract customers.  Unique event pricing (near Diwali, Gudi Padva, and Durga Pooja) is also given in the Big Bazaar.
Differentiated pricing: Differentiated price i.e. rate differentiation based on peak and non-peak shopping time or days is also an Indian retail pricing technique that is used aggressively by Big bazaar.
e.g. Wednesday Bazaar
Product Bundling: This means selling combo-packages and giving customers discounts. The packaging brings value to the consumer and results in higher sales. On bundling, Big Bazaar lays great importance.  eg. two bundled Delmonte ketchup at a price of Rs. 145 (the price of a single pack is Rs. 85).
3. Place in the Marketing Mix of Big Bazaar
The Big Bazaar stores exist in three sizes – hypermarkets spaced over 40000 to 45,000 Square Feet, the Express format between 15000 to 20000 square feet, and the Super Stores set up over 100000 square feet. Big Bazaar currently operates with 250+ stores in over 120 cities and towns across India. Most of Big Bazaar are usually situated in areas of heavy traffic. Big Bazaar aims to open stores in developing areas to take advantage early before the value of immovable property booms. r. Biyani plans to invest aggressively for the expansion of Big Bazaart.  Big Bazaar has also launched a website www.futurebazaar.com in order to gain a competitive edge, which allows consumers to buy items online that will be shipped to their doorstep. That helps to save its customers a lot of time.
4. Promotion in the Marketing Mix of Big Bazaar
Big Bazaar is well known for using unforgettable punchlines to advertise its items in very catchy, quick to remember ways. They offer discounts and coupons as well as money-back guarantees and other swap deals for under the line promotion. Big Bazaar is also using guerrilla marketing techniques to market its products.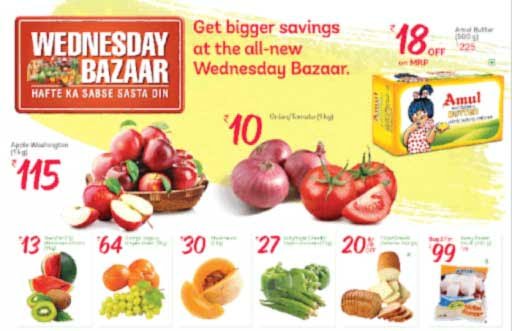 Various promotional schemes of Big Bazaar are :
Wednesday Bazaar
Exchange Offer
Future Pay Loyalty Card
Advertisements on TV, Print Radio, and Social Media.
Advertisement through Google Adwords
Brand Endorsement by M.S. Dhoni and film actress Asin.
The advertising approach in Big Bazaar's marketing mix is largely a 360 branding technique.
5. People in the Marketing Mix of Big Bazaar
Big Bazaar is owned by Kishore Biyani (founder and CEO). Quite well-trained and experienced employees help customers buy the right products.  The people strategy in Big Bazaar's marketing is mainly getting the right people qualified to represent the clients in the right way. The uniform and thorough grooming, the smartness of their staff helps to maintain a professional attitude to attract and support customers. Baggage counters and security guards also assist in monitoring foul play and guaranteeing safety.
6. Process in the Marketing Mix of Big Bazaar
From the free delivery of goods, packaging, and cash counter processes through technological application and more efficient sales and waiting systems in place, Big Bazaar realizes the important processes that play in merchandising sales and understands the implications that this has on customer retention and satisfaction.
7. Physical Evidence in the Marketing Mix of Big Bazaar
Big Bazaar displays prominently tags/name slips and descriptions for all its items as well as merchandising. It helps to boost search and navigation and reduces customer buying time, resulting in more sales. So make them visually pleasing, the packing of products is done routinely and insufficient piles. And all of this gives a description of Big Bazaar's marketing mix.
If you Like this Article Please Hit the Like Button and Follow Us on our Facebook Page: PROJECTS4MBA