In this article, we will discuss the Business Model of Quora  & How Does Quora Make Money?
Quora is a website that launched in June 2009 and has changed the way the world addresses the inquiries and questions that go unanswered. Being the top-notch Question-and-Answer website is the main essence of Quora's business model.
Internet users on Quora 's website ask, answer, and edit questions using actual data, information, or sharing their opinions. Quora 's goal, as shared on the Quora website itself by the co-founder, Adam D'Angelo, is "to share and grow knowledge of the world.

The Quora group is a strong-knit network that provides questions, responses, and votes up and down to build a forum for those who need answers to different queries.
This post will assist in understanding Quora's business model, which it embraced to shoot into success and end up becoming one of the "Unicorn startups" with a massive $1.8 billion valuation. We can understand how Quora channelizes its tasks and how it makes the money from its revenue streams.
Quora Business Model – An Introduction
Quora is a question-and-answer platform that allows users to ask any questions, and those are answered by real people. Quora initially didn't have a sales plan. It started earning money through publicity.
The production stage had to be done for nine entire months, and the site earned all its haulage as the employees told friends who in turn told friends and Quora was enabled by the grapevine networking system to obtain her views.
Within such a short time, the company has achieved so much due to simple accessibility and friendly user interface that includes an intelligent and well-conscious group of people who are prepared to answer any questions that come in a fast, but meaningful and insightful way.
Quora has an impressive method of finding the best content for the target audience. It usually has answers to most of the people's FAQs. There are few examples of the generic questions placed
Career consultation
Health and medicine
Life counseling
News
Jobs
Relationship therapy
Politics
Everyone has some issues they want to be addressed but may not be able to address because of judgment or some other excuse. Quora, being an online comment site, eliminates human contact out, but still offers correct responses to the questions asked.
Various well-known public figures often engage in questioning and answering sessions at a period when they need the general public's support. It helps to remove the challenges of seeing these individuals on a higher pedestal. That increases the success rate for Quora.
Timeline Quora
The startup, located in Palo Alto, San Francisco, was founded by Adam D'Angelo and Charlie Cheever, former Facebook employees. They spent hours brainstorming a domain name, chatting with friends, and deleting those they didn't like. They eventually settled on "Quora," but Co-founder Charlie Cheever noted that Quiver was the company's second-closest competition for the name.
In the end, they took nine months to establish Quora's business model. The company was their baby in a funny way, and it was given lots of attention, care, and commitment so that it could attract online traffic.
In 2014, Quora joined the startup accelerator called "Y Combinator" and managed to raise a total of $226 million with the support of 14 investors in four funding rounds.
In March 2016, the website acquired a political debate platform called Palio. It was their first and sole purchase to date.
Quora Dream
A sign of Quora is seen at his office on April 17, 2018, in Mountain View, California. As indicated on the website, the aim was to "share and expand the awareness of the world. "An ocean of information that should be provided to all people across the globe is limited to only a handful of them," the founders said. Such pieces of information are either available to only a handful of individuals, or in their minds locked. Quora provides a forum for people to share information with those in need.
This dream, to inspire and enrich ordinary people's awareness by linking them to those with field expertise without setting appointments with consultants, has been widely valued by the world and is one of the reasons behind the popularity of this question and answer web. It has been the key of Quora's business model success.
Important Facts About Quora
Has its headquarters in Mountain View, California, USA

| | |
| --- | --- |
| 2018 revenue | $8 million |
| Web-visitors | monthly 693 million users |
| Employee numbers | 722 |
| Stakeholders | Top authors, customers, advertisers, publishers, web companies |
| Number of Topics on Quora | 400,000 |
| Percentage of Quora Mobile Traffic | 40% |
| Total Number of Questions asked | 13,304,529 |
Being a for-profit company, Quora had no earning source in the beginning and the company earned in the four rounds of funding was living on the venture capital.
Main goal of the Quora business model was to build a database of questions and answers for the website users. They ensured that the answer to the questions was good quality material, wholesome, insightful, and highly effective, resulting in these answers being always at the top or near the top of any search engine when the question was asked.
Quora's business model has a real politics of name. This means the website user must sign original names and not pseudonyms. They don't ask for signature verification, but the group will take down the false names. This tactic increases the platform's brand image, as big names like Mark Zuckerberg, Hillary Clinton, etc. are all part of this network.
The investors chose to put so much capital into the Quora business model because they knew they would reap the dough 's benefits into the company.
The answers to the questions that we are inclined to answer and given the specifics or facts without beating around the bush. This led to more popularity and recognition as users did not have to go through long articles or brush for the content needed by magazines.
The company can put out an IPO after receiving revenue, which is a highly valued startup position. The culmination of years of hard work will culmination in fruition, whilst at the same time being one of the largest information resources and imparting knowledge to those in need.
It was one platform that had extremely low pop-up advertising.
Quora has also developed its proprietary algorithm to assist in ranking responses.
Quora's business model helps users to communicate with others instead of conversing with ChatBots. The advice offered comes from real-life experience, which makes putting into action relatable and more relaxed than theory, which would be generated from a source of artificial intelligence.
Key Role Players of Quora Business Model
Contributors
Top Writers
Users
VIP Writers
Power Users
Big Media Platforms
Publishers & Online Businesses
Investors
On top of that, the Quora revenue model customer categories include customers and advertisers. Channels used for the business model of Quora are the Mobile App, sites, SEO, and PRs, such as posts written on forums such as Forbes.
Now let's explain Quora's revenue generation approaches-
In The Beginning: Quora Revenue Model
Quora, which launched in 2009, initially had no source of revenue and only operated on the venture capital it received in the 4 rounds of funding. Nevertheless, its valuation continued to grow and after its $85 million Series D investment, Quora was valued at about $1.8 billion.
How Does Quora Make Money?
Just like any forum with a large user database and its interests, Quora has started to earn money from advertisements. Started as a beta test by showing advertising from small advertisers, advertisements are now much more popular on Quora.
Quora has managed to integrate advertisements differently than most in its business model, as it focuses on targeted advertising from targeted advertisers. Ads are so well integrated into the Quora business model that they tend to be a part of it.
Advertisements can be found both on the site and on the forum sites. However, the price for it which quora charges differs for different placements. Quora is also using Adsense as an Adnetwork to serve quality ads to its visitors.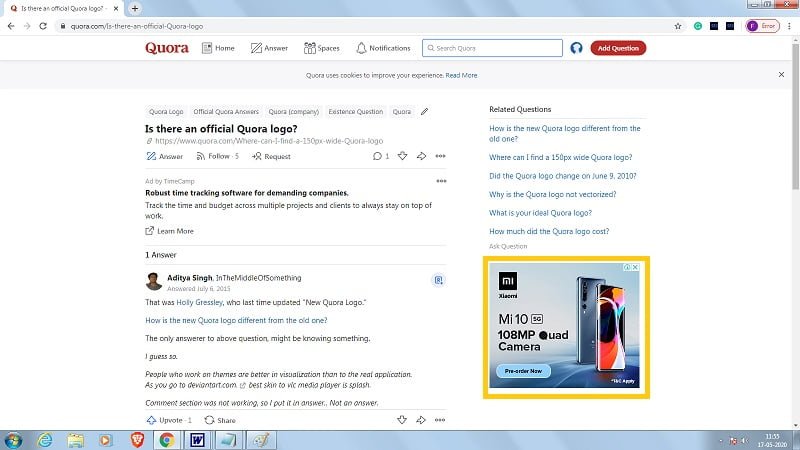 Can Quora end up at the top of its pages with supporting posts?
Quora doesn't wish to compromise the company's goal. It requires users to visit the site in order to get the best response to their questions, and not content promoted.
How much is it worth Quora?
Quora was estimated at $1.8 billion, with the latest funding in 2017.
Conclusion
Quora 's innovative business model, designing, sharing, and imparting knowledge, was what gave it an advantage over other startups. It now uses an advertising strategy in which ads appear as part of the website itself rather than functioning as an undisguised tool of marketing.
When Quora expands, more authors, posts, and answers will become homes. It can move more easily and also to a wider audience.
Paulo Coelho rightly said, "When I got all the answers the questions changed." The more answers, the more questions it poses to be answered further.
The human mind is a complex piece of work that never fails to ask questions. They are invigorated by relentless curiosity towards a quarry of objects and a variety of answers.
That is what will keep Quora constantly rising and developing.
If you want to read an article on Management by Objectives – Click Here
If you Like this Article Please Hit the Like Button and Follow Us on our Facebook Page: PROJECTS4MBA