This Article is on the Business Model of Makemytrip.com and the Revenue Model of Makemytrip.com. MakeMyTrip.com is an online travel and hotel reservation service founded by Deep Kalra in 2000 providing online airline tickets, rail tickets, bus tickets, hotel reservations to their customers. They sell over 12,000 flight tickets, 1,000 hotel room nights, and more than 100-holiday packages every day. They come under the B2C business model in which they provide their customers with online ticket bookings as their goods and a wide range of services around the clock with a single click of the mouse. They also provide their customers with a range of holiday packages that save people's time planning their vacations. MakeMyTrip is expected to represent 23 percent of India's total travel market by 2010. MakeMyTrip has also opened offline retail outlets to advertise their holiday packages and to create a brand picture of them. MakeMyTrip is currently launching a US-based service, IndiaAhoy, a B2B platform that sells packages to India tours through travel agents and tour operators.
Values
MakeMyTrip is a combination of a variety of values such as:-
Customer-Centric Approach: they focus on their customers both internally and externally.
Integrity: MakeMyTrip ensures continuity between words and behavior. They 're still maintaining.
Innovation: MakeMyTrip combines innovation in both business and technology to deliver the best products and services to its customers.
Teamwork: MakeMyTrip believes in teamwork to achieve the goals of providing the best service to its customers.
Transparency: MakeMyTrip feels the duty and transparency that it owes to its consumers and stakeholders.
Passion for Winning: MakeMyTrip believes in a "do" attitude and believes that nothing is impossible.
Revenue Model – How Does MakeMyTrip Make Money?
The turnover of MakeMyTrip for the fiscal year 2010 was Rs 1000 crore, which increased to Rs 1500 crore in 2009. 66% of MakeMyTrip busiess were airborne and 34% non-airborne. One of the sources of revenue for MakeMyTrip is the fee charge they pay for online bookings. MakeMyTrip provides the cheapest airline tickets available. Corporation purchases tickets from private airlines on a wide scale, thereby reducing the cost and selling these tickets to its customers at an extra commission fee. The amount of profit is the highest in the case of airline tickets, while it is very small in the case of train tickets because of only one manufacturer. MakeMyTrip has about 5 to 10,000 in hotels, and about 1,000 busses.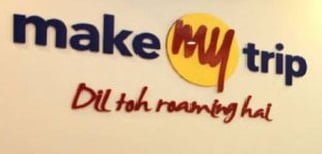 A major portion of their revenue comes from marketing of various companies such as Kingfisher, Tata, Spicejet on MakeMyTrip website by displaying e-banners of various deals, items, etc which these companies sell.
Many hotels in India have teamed up with my trip to advertise their holiday packages on the MakeMyTrip website. Some revenue is also earned in this area. Yet online hotel booking is not a major market in India, as Indians tend to call the hotel directly for booking rather than MMT bookings, which would charge a 10-15% fee. 15-20 percent of their revenues also come from out-of-line retail outlets across India.
Customer Offerings in Business Model of MakemyTrip.com
MakeMyTrip's main Offerings to the consumer is ideally suited to customer comfort. MakeMyTrip is a reliable, productive company that uses the latest technology for its business. MakeMyTrip believes that it is not cheaper air tickets that will bring customers to them. MakeMyTrip believes in building a consumer experience. The advantage that the customer gets when visiting MakeMyTrip.com is that it lists all the options available in a glance, saving precious time.
Booking is also very flexible through MakeMyTrip, which allows customers to make changes and cancel at any time. MakeMyTrip also provides various payment facilities, ranging from net banking, debit cards, and credit cards to almost every bank. In the event of any refund money, it is automatically transferred back to the same account in e-transaction.
In addition to all these advantages, MakeMyTrip also offers many value-added services to customers, such as various discounts and different booking offers.
MarketPlace
MakeMyTrip began its business from the US-India travel sector in 2000. Following its success in the US, MakeMyTrip started operating in India in 2005 and, within five years, accounting for nearly 50 percent of all online travel industry revenues in India. While MakeMyTrip initially operates exclusively on the Internet, in 2008 they decided to open their offline retail stores in India in order to promote their holiday packages and build brand awareness. There are officially 20 offline stores in major cities in India. Business Model of Makemytrip.com makes it a no.1 online travel booking company in India.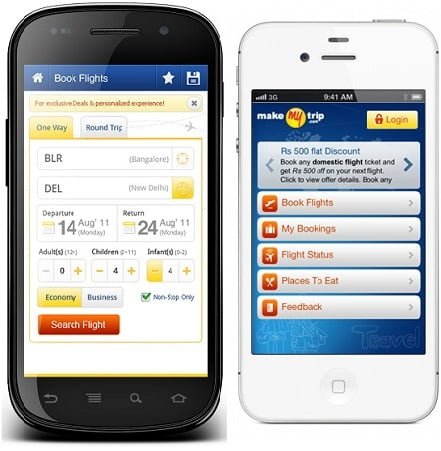 Major Competitors
Yatra.com
The biggest competitor of MakeMyTrip is yatra.com, which launched in 2006 in India. Their marketing strategy was to target the market through television and online. Yatra.com has more than 1 million registered users selling more than 1,100 Crores. Yatra.com has 10 offline offices in 10 major Indian cities. Yatra.com was declared the "Best Online Travel Agency" of the year 2008 at the Galileo Express Travel Awards and was also awarded the "Top 100 start-ups in Asia" award by Red Herring. Yatra.com has a market share of 30%.
Cleartrip.com
Another big competitor of MakeMyTrip is cleartrip.com, which began with Hrush Bhatt in 2006. It has a unique feature in both air and train travel, i.e. the air and train calendar, which shows fares between destinations up to 3-6 months ahead.
Competitive Advantage in the Business Model of MakeMyTrip.com
MakeMyTrip's key competitive advantage is to think beyond customer service and create an unforgettable user experience. MakeMyTrip has customer testimonials that provide very strong feedback on their customer service managers. All other online travel agencies offer simple booking services, but the customer's experience gives MakeMyTrip a favorable environment.
Another innovative advantage that MakeMyTrip possesses is the technology that they incorporate in their products. They are making constant improvements to their customer experience in their systems. Advanced technology gives them an extra advantage over other rivals in the online travel agency industry.
MakeMyTrip focuses not only on building value for its clients but also on its suppliers. MakeMyTrip focuses on providing its suppliers with the best and most suitable venue to showcase their goods.
Business Model of MakeMyTrip.com
The business model of MakeMyTrip.com focuses on providing a customer-centric approach and helps its customers to Book Tickets and plan their journey. With an annual growth rate of 40%, India is a fast-growing online travel agency. MakeMyTrip marketing strategy focuses on making MakeMyTrip an elite brand rather than a product. To achieve this goal, they focus on all four marketing P's, i.e. Name, Price, Location, Promotion.
Their commodity, i.e. online tickets, is widely embraced by customers and their value-added services provide customer satisfaction. As far as Price is concerned, they are offering their customers online tickets at an affordable price. MakeMyTrip uses e-market as a place of business that is open to customers from anywhere. While internet penetration in India is only 7%, MakeMyTrip takes it as a challenge or opportunity for their company. As far as promotion is concerned, MakeMyTrip communicates and informs people about their products and services through electronic banners on websites, television commercials, and also through their offline retail stores. Online advertisements are meant to drive transactions while offline transactions, i.e. through television, help MakeMyTrip to emerge as a brand. MakeMyTrip 's justification for offline marketing is that creating a brand online is very difficult. A person, while online, is busy browsing information and checking emails. Consumers sometimes turn a blind eye to web advertising.
Organizational Structure
MakeMyTrip is a service organization with more than 700 employees from the travel, tourism, technical, and hospitality industries. MakeMyTrip believes in the policy of empowerment. This means that they give their workers the ability and freedom to think and behave in ways that will encourage them to do their job and still be consistent with their services.
The information of senior management shall be as follows:
Deep Kalra (Founder & Chief Executive Officer)
Keyur Joshi (Founder and Chief Operating Officer)
Mohit Gupta (Chief Marketing Officer)
Rajesh Magow (Co-Founder and Chief Financial Officer)
Amit Somani (Chief Product Officer)
Mukesh Singh (Senior Vice-President, Technology Development)
Investors of MakeMyTrip are :
Ravi Adusumalli and Vibhor Mehra, SAIF Partner
Sanjeev Aggarwal (Managing Director), Helion Venture Partners.
Tim Guleri (Managing Director of Sierra Ventures)
MakeMyTrip APP in Business Model of MakeMyTrip.com
MakeMyTrip app is available on Google play store with 4.5 stars.
MakeMyTrip Facilities:
Hotel booking
Flight booking
Holiday booking
IRCTC Authorized Rail booking
Bus booking
PNR status
Outstation Cabs
Fast, safe, secure
Manage trip
Exclusive Deals
Flight status
Future Outlook in the Business Model MakeMyTrip.com
MakeMyTrip focuses on domestic travel tickets, with a growth rate of over 100 percent over the last three years. MakeMyTrip expects higher growth in the outbound travel market on a broader scale. Many more Indians are seeking to go overseas for holidays and vacations. MakeMyTrip is thinking of converting domestic travelers into international holidaymakers by offering them holiday packages at an affordable price. MakeMyTrip is reportedly expected to raise up to $ 100 million in an initial public offering on the US stock exchange Nasdaq. MakeMyTrip plans to expand its operations by selling its share and by investing in strategic assets.
Conclusion
Makemytrip.com is a perfect example of a B2C Online Business model. This is a great example of how to sell a service online and offline. The online travel industry has a growth rate of 40% in India and with many players entering the market, MakeMyTrip's market share shows that its marketing strategy is efficient and effective. They concentrate on creating user experience than on offering a product at a lower price. Thus we can say that the Business Model of MakeMyTrip.com is good and the company is generating good revenue from this Business Model.
If you like this article and want to read more About Marketing Mix – Click Here
If you Like this Article Please Hit the Like Button and Follow Us on our Facebook Page: PROJECTS4MBA